NAT-FMC-SDR4 with 2 Analog Devices ADCs and 4 Rx/Tx with HPC
The NAT-FMC-SDR4 is a radio frequency (RF) front-end FMC module that provides eight front panel ports for connection to antennas in wireless networks (4x transmit, 4x receive). ADRV9009 RF transceivers provide the transmit/receive functionality, with 200 MHz instantaneous bandwidth per channel.

Two modules may be stacked to provide 8 Rx/Tx channels. Mounting one or two NAT-FMC-SDR4 RF transceiver FMC module(s) to the NAMC-ZYNQUP-FMC creates the NAT-AMC-ZYNQUP-SDR4 (or 8), which combines high performance FPGA processing with RF front-end antenna connections. The nature of the mezzannine connectors means that, for an 8-channel module, the variants to mount on the FPGA carrier board are NAT-FMCSDR4-M and NAT-FMC-SDR4-T.
ORDER NOW
Technical Description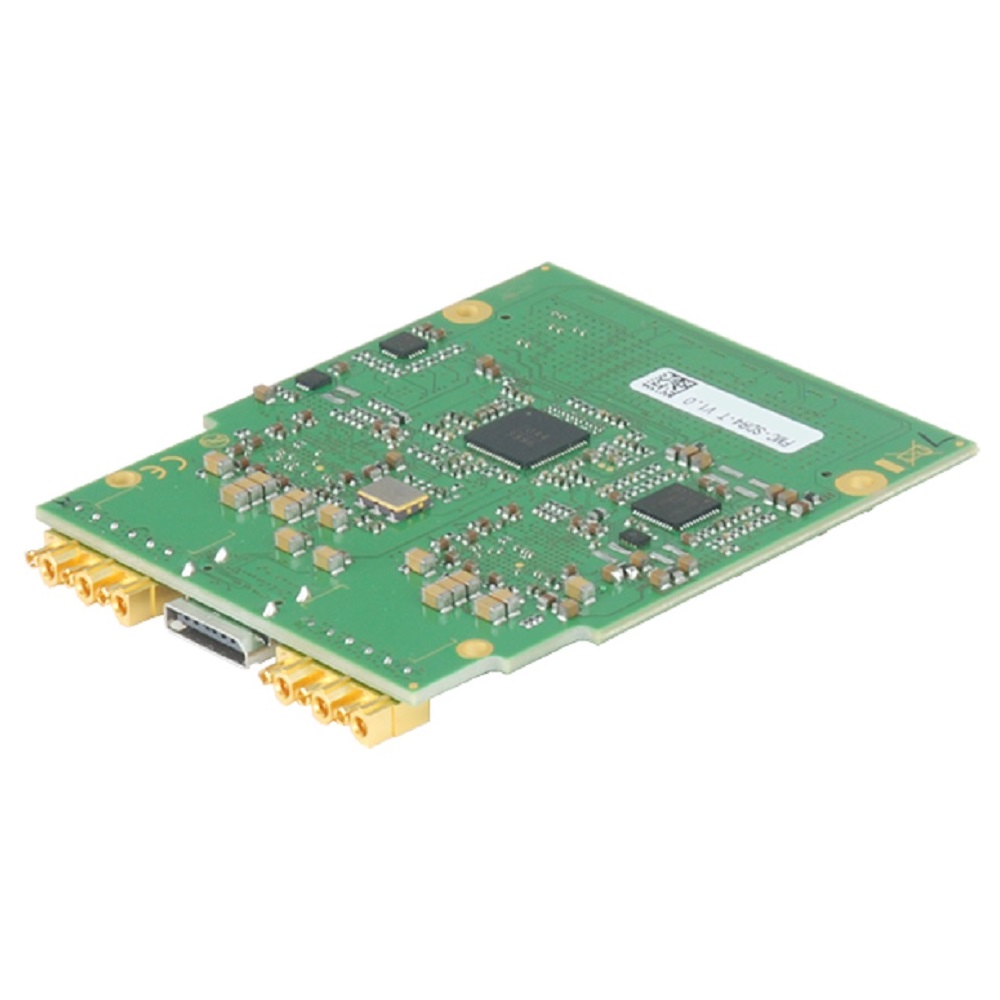 FMC module, VITA 57.1 comliant
4 Rx and 4 Tx channels with 200 MHz instantaneous bandwidth each
Rx observation channel for DPD and PA
2 Analog Devices ADRV9009
Synchronizable for creating large phased arrays
200 MHz maximum receiver bandwidth
450 MHz maximum observation receiver bandwidth
450 MHz maximum tuneable transmitter synthesis bandwidth
Multichip phase synchronization for RF- and baseband signals
Multiboard synchronization
75 MHz to 6000 MHz tuning range (center frequency)
RX gain range: 30dB in 0.5dB steps
RX noise figure: 2dB @ 800 MHz, 3dB @ 2.4 GHz, 3.8 dBm @ 5.5 GHz
2 years warranty
Order Information
FMC Module with 2 Analog Devices ADCs, 4 Rx/Tx with HPC
FMC Module with 2 Analog Devices ADCs, 4 Rx/Tx with HPC
Technical Documentation