NAT-MCH-PHYS48 MicroTCA Carrier Hub for Physics or MTCA.4 applications
The NAT-MCH-PHYS48 consists of the NAT-MCH base and the NAT-MCH-CLK-PHYS, a special low latency and low jitter clock module, to create a PCIe Gen3 hub module that is a management and switching solution for MicroTCA.4 systems.

The NAT-MCH-CLK-PHYS clock module is specially designed for physics and scientific research applications, providing a very low-jitter and low-latency clock at CLK1 and CLK2 and a fixed mean 100MHZ PCIe clock. The NAT-MCH-PHYS48 is capable of sourcing an external clock from, or delivering an internal clock to, two SMA inputs or outputs on the front panel. This allows installations of many MTCA systems to be synchronized to a central clock source in a very elegant and easy-to-use way.

The PCIe hub module provides a 48-port PCIe Gen3 switch that allows each of the 12 AMCs in a MicroTCA.4 system. The PCIe switch provides the ability to establish up to six virtual PCIe clusters and assign the AMC slots to these.

The NAT-MCH-PHYS48 fully supports redundant management and power environments. Frequent exchange of the internal databases with the secondary MCH and a heart beat mechanism ensure an immediate switch-over from the primary to the secondary MCH whenever it becomes necessary (PCIe fat pipe switch over may require additional precautions). The NAT-MCH-PHYS48 can handle up to four power modules for N+1 configurations.

Apart from the Java GUI NATview the NAT-MCH-PHYS48 also supports external management solutions which are based on the Remote Management Control Protocol (RMCP), such as the open-source tool ipmitool. The NAT-MCH-PHYS48 can also be integrated into environments based on the Simple Network Management Protocol (SNMP) using the NAT-MIB. The NAT-MCH-PHYS48 can be configured using either uploadable text based script files or via the integrated web interfaces using a standard web browser. Finally, the integrated debug and configuration facilities can be accessed via a serial console or using Telnet or SSH.

We use the NAT-MCH in our MicroTCA starter kits.

For customers who need a rear transition module for their application, is the NAT-MCH-PHYS80 variant the best solution, which supports NAT-MCH-RTM. This RTM can accomodate a user-accessible Intel quad-core Core Xeon E3 ComExpress module, turning this combination of MCH and host processor into a true single-slot solution providing the root complex in any MTCA.4 system.
ORDER NOW
Technical Description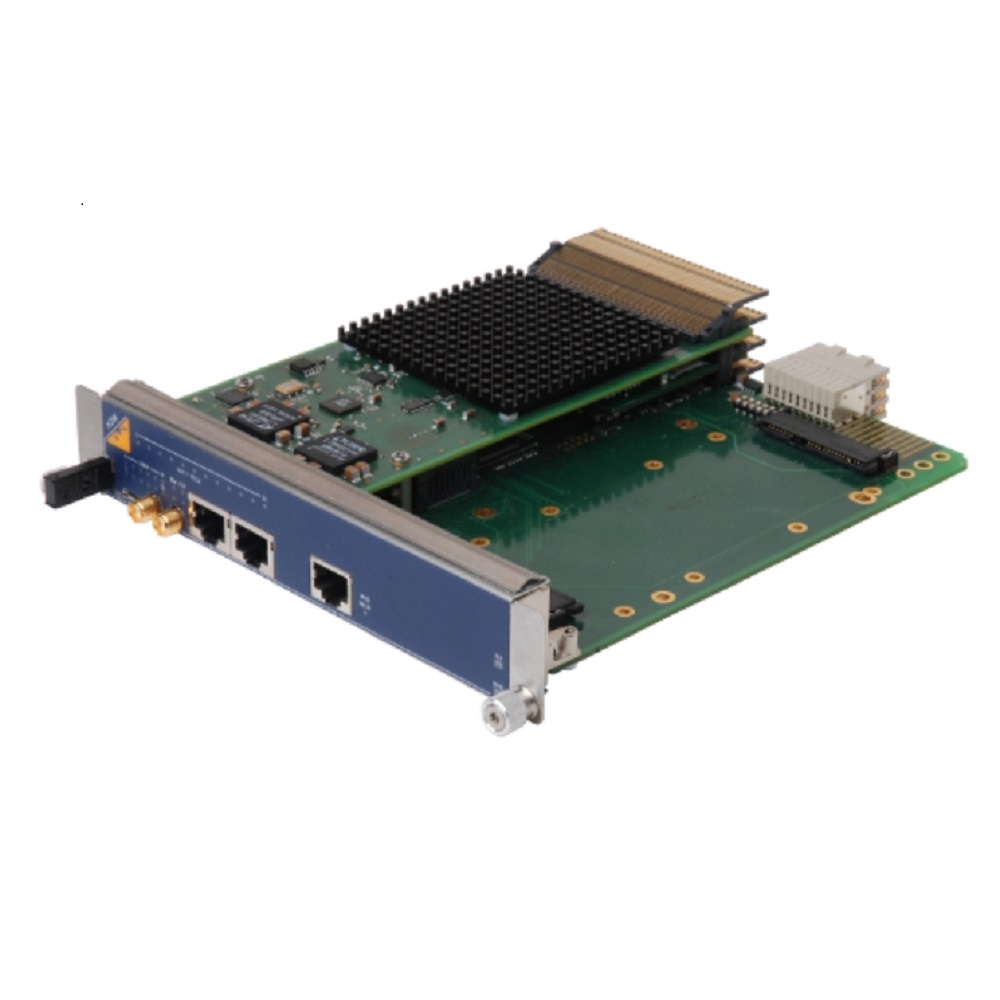 MicroTCA Carrier Hub, MTCA.0, MTCA.1 and MTCA.4 compliant

200MHz NXP Freescale ColdFire MCF54452 CPU with up to 64MB DDR2 RAM and up to 64 MB Flash

Management for 12 AMC modules and optional AMC13 in 2nd MCH slot, 2 front and 2 rear cooling units and 1-4 power units incl. N+1 redundancy

Supports redundant architectures and fail-over procedure

Supports configurable emergency shutdown of AMCs or entire system

Fabric A: Gigabit Ethernet

Fabric D-G: PCI Express Gen 3

Clock generation and distribution by special clock module for Physics (NAT-MCH-CLK-PHYS)

CLK1 and CLK2 by special low jitter and low latency circuitry

CLK3 fixed mean 100MHz PCIe clock (HCSL)

Two GbE front panel ports for management and uplink

One serial (RS-232) and one USB console front panel port

Fabric D-G uplink front panel port

2 SMA front panel ports for external CLK support

Support NATview

33 status LEDs, 3 standard AMC LEDs, 12 LEDs for AMC slots, 2 cooling unit LEDs, 4 LEDs for power units and 12 LEDS for PCIe link status

2 years warranty
Order Information
NAT-MCH, 16 GbE, PCIe x4, special Physics Clock module, double full-size
Java based GUI for monitoring and supervising of MTCA systems
Java based GUI for monitoring and supervising of MTCA systems with SEL saver, FRU editor, e-keying viewer, link display
Technical Documentation