TPMC895 2 or 4 Port Gigabit Ethernet Interface
4 port Ethernet 10BASE-T/100BASE-TX/1000BASE-T interface. A transparent 64-bit/133 MHz PCI-X to PCI bridge provides access to two or four Intel I210IT Ethernet controllers supporting transmission rates of 10, 100 and 1000 Mbps in full-duplex mode and 10 and 100 Mbps in half-duplex mode. All TPMC895 channels independently determine the best connection parameters with the remote site.

The TEWS Technologies TPMC895-10R PMC module provides four RJ45 front panel ports and the TPMC895-20R provides two RJ45 front panel ports. On the TPMC895-11R and TPMC895-21R, the Ethernet ports are routed to the P14 connector. The TPMC895-30R is a TPMC895-10R with an additional P14 connector for back I/O P14 port for IEEE 1588 auxiliary device connections.
ORDER NOW
Technical Description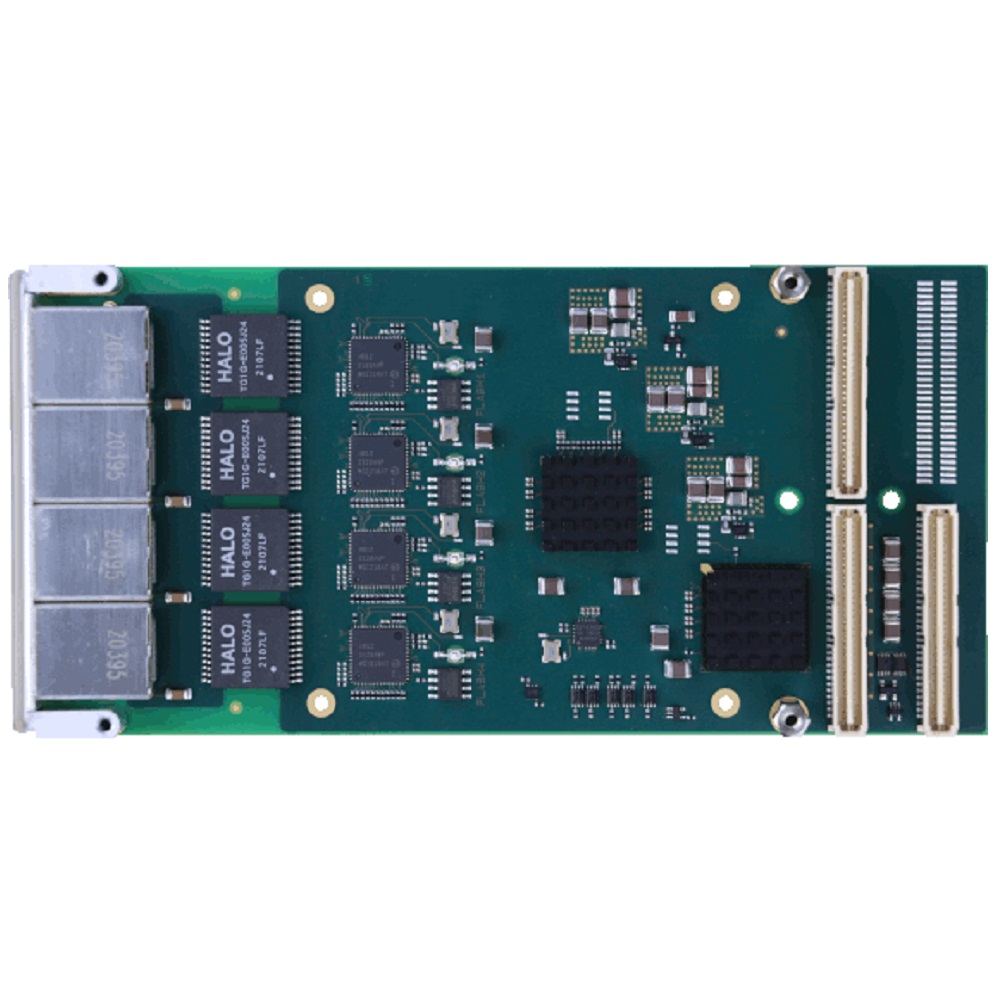 PMC module, 64-bit/133 MHz PCI-X/PCI interface, IEEE P1386.1 compliant, PCI 3.0 and PCI-X 2.0a compatible, 3.3/5V Vio
Two or four 10/100/1000BaseTX Ethernet ports, Intel I210IT controller
Auto-negotiation
Front panel I/O via RJ45 ports or via P14
All ports galvanically isolated
16 Mbit serial flash
IEEE 1588/802.1AS Precision Time Protocol (PTP) and IEEE 802.1Qav Audio/Video Bridging (AVB) Traffic Shaping (with software extensions)
-40°C .. +85°C operating temperature range
5 year warranty
Order Information
PMC Module, 4 Port GbE Interface, RJ45 Front I/O
PMC Module, 4 Port GbE Interface, Rear I/O
PMC Module, 2 Port GbE Interface, RJ45 Front I/O
PMC Module, 2 Port GbE Interface, Rear I/O
PMC Module, 4 Port GbE Interface, RJ45 Front I/O, IEEE 1588 accessories via P14
Technical Documentation