3U conduction cooled VPX CPU Board with Intel Xeon E-2200 or 9 Gen. Core i3 Processor, up to 32 GB RAM and XMC Slot
3U conduction cooled VPX CPU board with a 6-core up to 2.4 GHz Intel® Xeon E-2276 or with a 4-core up to 1.6 GHz Intel® Core i3-9100HL processor. The board is based on Intel's CM246 platform controller and has up to 32 GB of soldered DDR4 ECC SDRAM.

The CONCURRENT Technologies TR E8x/msd-RCx offers a VITA 46.9 XMC slot, up to 2 Gigabit Ethernet ports, up to 4 SATA 6Gbit/s ports, up to 2 RS-232/422/485 ports, up to 4 USB ports, up to 6 GPIO ports and one PCIe x8 port or up to 3 PCIe x4 ports or up to 6 PCIe x2 ports. Opt. an independent DisplayPort v1.2 graphics interface with audio and video support is available and an onboard flash module can be mounted. The graphics interface supports 3840×2160 pixel resolution as well as DirectX 12, OpenGL 4.x and OpenCL 2.0.

The board supports Microsoft Windows and Linux.
ORDER NOW
Technical Description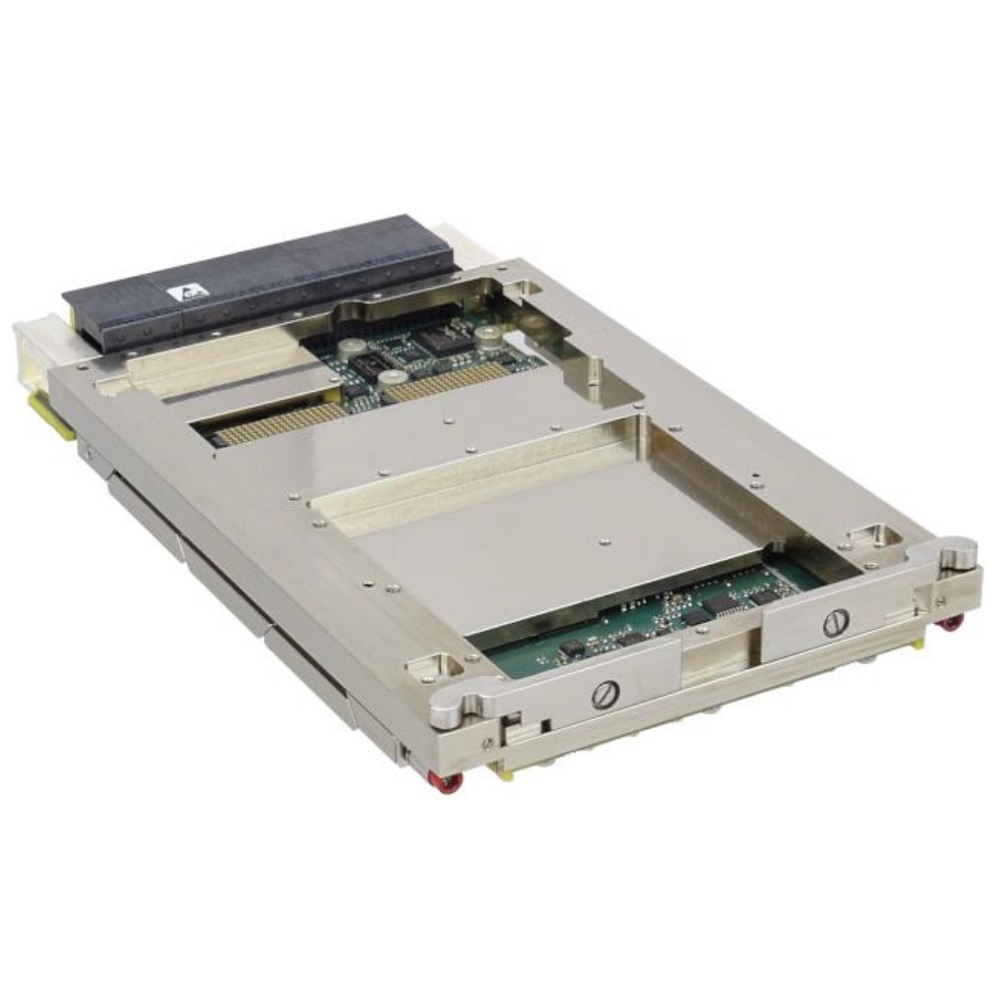 3U/4HP VPX board, VITA 42.0, VITA 46.0, VITA 46.4, VITA 46.6, VITA 46.9, VITA 46.11, VITA 47, VITA 48.0, VITA 48.2, VITA 61, VITA 65 and OpenVPX compliant
MOD3-PAY-2F2U-16.2.3-10
MOD3-PAY-2F1F2U-16.2.1-4
MOD3-PAY-1F2F2U-16.2.2-4 module profile
6-core up to 2.4 GHz Intel Xeon E-2276ME CPU, 12MB cache,
4-core up to 1.6 GHz Intel Core i3-9100HL CPU, 6 MB cache
Intel CM246 Platform chipset
Up to 32 GB ECC DDR4 SDRAM, soldered
Two 32 MB BIOS SPI Flash EPROMs
One XMC slot, VITA 42.0, P2 rear I/O (VITA 46.9),
Option 1: complete rear XMC I/O (X24s+X8d+X12d) without DisplayPort
Option 2: reduced rear XMC I/O (X8d+X12d) plus additional P2 I/O with 1x USB 2.0, 1x USB 3.1, 1x SATA 6Gbit/s and one DisplayPort with audio interface
One independent graphics interface, DisplayPort v1.2 with audio and video support via P2 (build option 2), 3840×2160 resolution, DirectX 12, OpenGL 4.x and OpenCL 2.0 support
Two Gigabit Ethernet ports, two SerDes 1000Base-BX or 10/100/1000Base-T ports on P1, with or without magnetics, Precision Time Protocol supported, VITA 46.6, Intel I350-AM2
Up to 4 SATA 6Gbit/s ports, two ports on P1 (replace PCIe interface on VPX expansion layer), opt. one port on P2 (build option 2) and one port for opt. flash module
Opt. XMC module with two M.2 SSD slots: 2242 module format is supported, PCIe x4 interface (M-key), NVM Express (NVMe) logical interface
Up to 2 serial ports: one RS232/422/485 port on P1 (replaces PCIe interface on VPX expansion layer), opt. one RS232/422/485 port via P2
Up to 4 USB ports: opt. two USB 2.0 ports on P1 (replaces PCIe interface on VPX extension level) and opt. one USB 3.1 and one USB 2.0 port on P2 (XMC build option 2)
Up to 6 GPIO ports, two ports on P1 and opt. four ports on P2
One PCIe x8, two PCIe x4 or four PCIe x2 ports on data plane and
one PCIe x4 or two PCIe x2 Gen 3 ports on expansion plane via P1 (VITA 46.4)
or
one PCIe x4 or two PCIe x2 Gen 3 ports on data plane and
two PCIe x4 or four PCIe x2 Gen 3 ports on expansion plane over P1 (VITA 46.4),
PCIe ports with Gen1, Gen2 and Gen3 support, expansion plane or one RS-232/422/485, two SATA 6Gbit/s and two USB 2.0 ports via P1
PCIe switch supports non-transparent ports for multi-processing configurations
P0, P1 and P2 support OpenVPX configuration
4-channel DMA engine for fast data movement
UEFI 2.7 BIOS with Secure Boot, LAN Boot Firmware, Intel Boot Guard, opt. Fast Boot solution with the Intel Firmware Support Package (FSP)
Real-time clock and watchdog timer
System Management with CPU temperature and voltage monitoring and Baseboard Management Controller (BMC)
Trusted Platform Module (TPM 2.0) and opt. build-in test (BIT)
Conduction-cooled, -40°C … +85°C operating temperature range
2 years warranty
Order Information
3U VPX Board, Intel Xeon E-2276ME, 32GB RAM, VITA 42.0
3U VPX Board, Intel Xeon E-2276ME, 32GB RAM, VITA 61
3U VPX Board, Intel Core i3-9100HL, 16GB RAM, VITA 42.0
3U VPX Board, Intel Core i3-9100HL, 16GB RAM, VITA 61
Technical Documentation