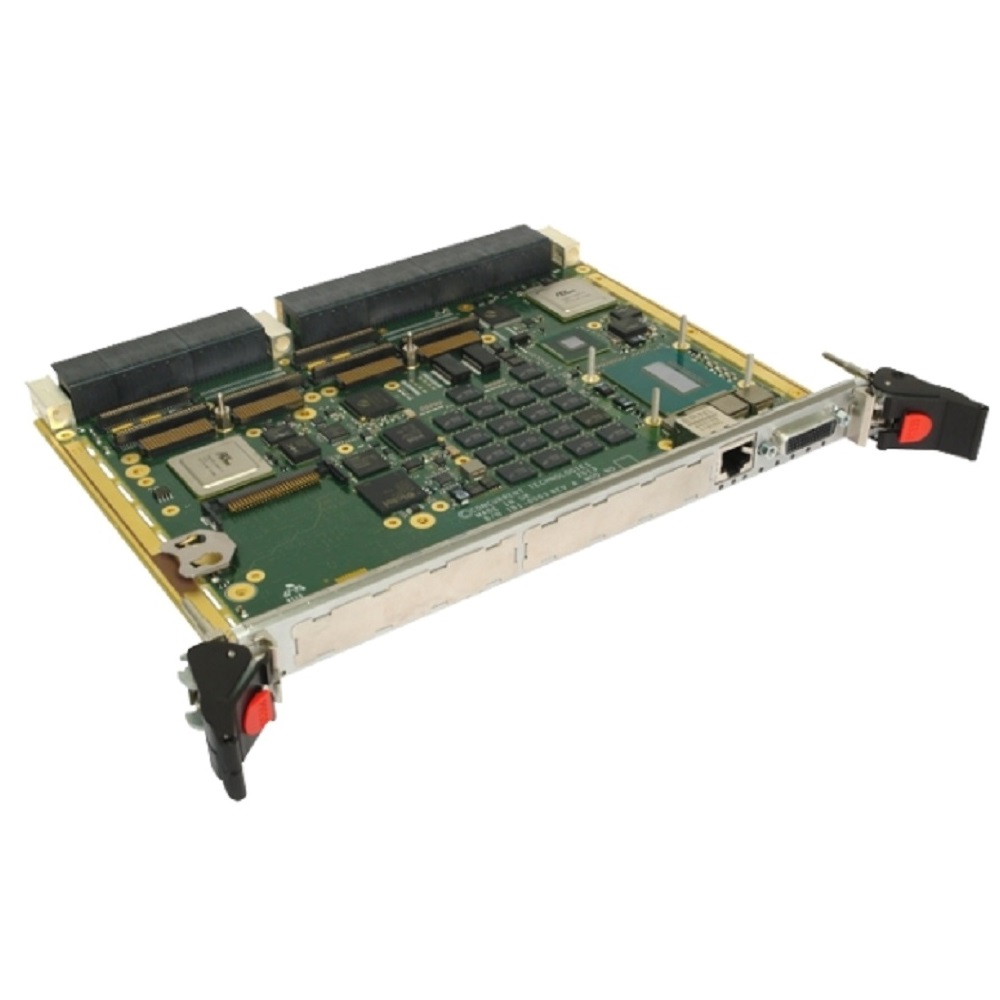 VR E1x/msd Intel Core i7 CPU Board with 2 PMC/XMC Slots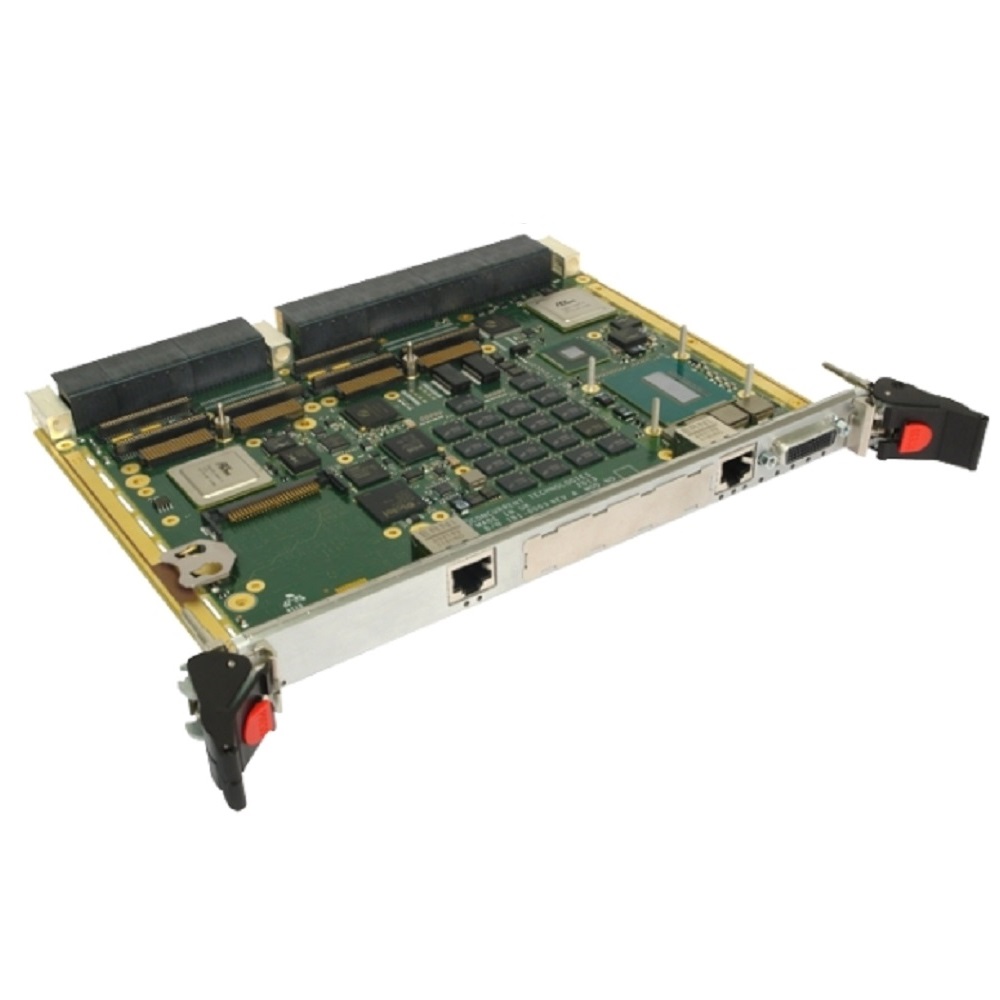 VR E1x/msd Intel Core i7 CPU Board with one PMC/XMC slot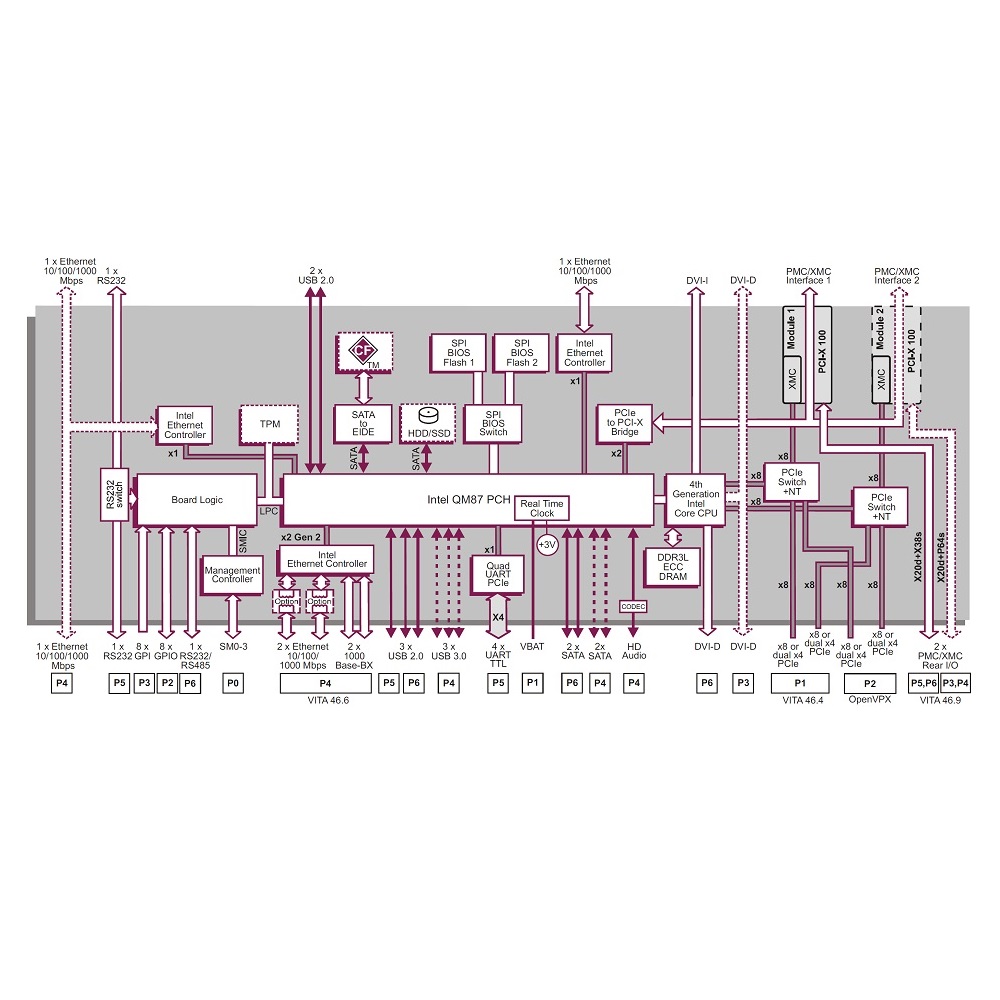 VR E1x/msd Block Diagram
VR E1x/msd 6U VPX CPU Board with Intel Core i7 Gen 4 Processor, 32 GB RAM and up to 4 DVI Graphics Interfaces
6U VPX CPU board with a Quad Core 2.4 GHz Intel Core i7-4400EQ or a Quad Core 1.7 GHz Intel Core i7-4400EQ or a Dual Core 2.7 GHz Intel Core i5-4400E processor. Up to 32 GB DDR3L-1600 ECC SDRAM are soldered on the board. Dual 8 MB BIOS flash are available.

CONCURRENT Technologies VR E1x/msd offers two PMC/XMC sites, up to four DVI ports, four SATA 6Gbit/s ports, up to seven Gigabit Ethernet ports, one RS-232/422/485 port, one RS-232 port, four UART ports with TTL level, five USB 2.0 ports, 16 GPIO ports, and a HD audio interface. Opt. three USB 3.0 ports are available and a 2.5" HDD/SSD can be mounted which occupies one PMC/XMC site.

The board supports Linux, Microsoft Windows, and VxWorks.
ORDER NOW
Technical Description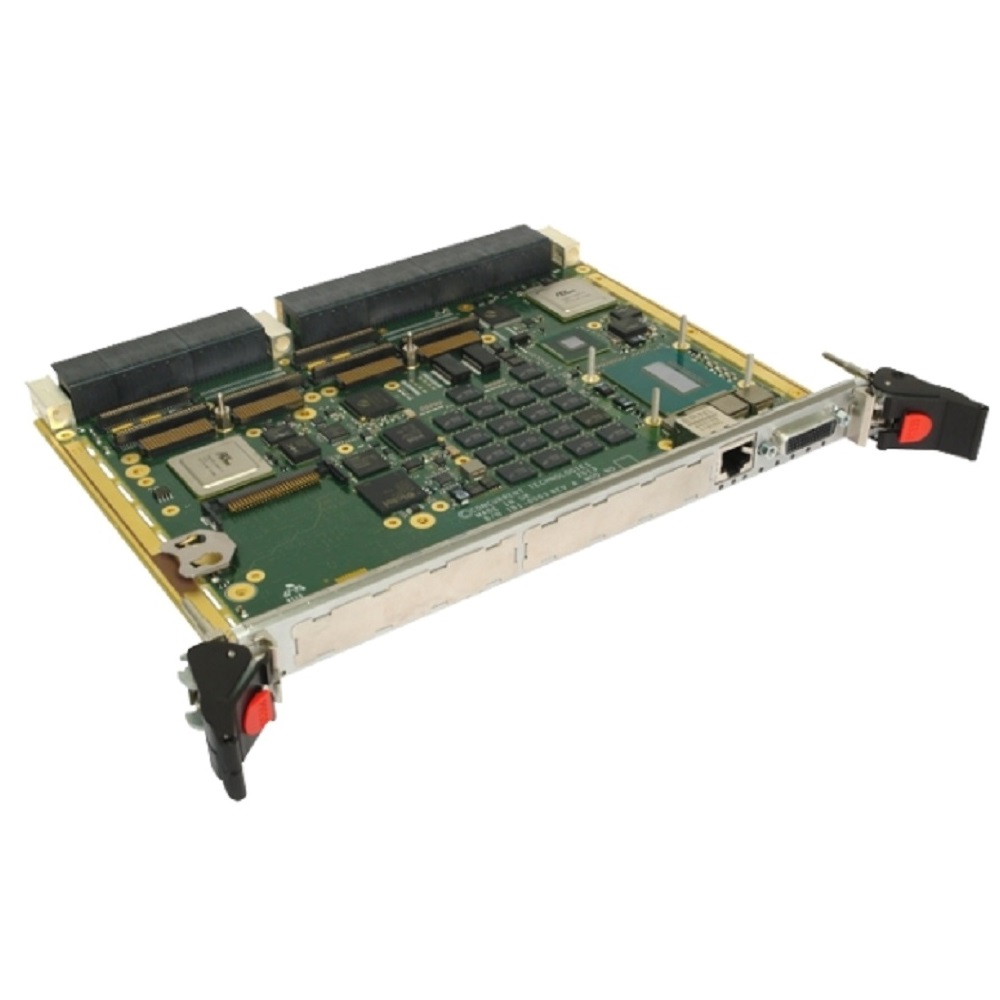 6U/4HP VPX CPU board, VITA 46.0, VITA 46.4, VITA 46.6, VITA 46.9, VITA 47, VITA 48.0, VITA 48.2, VITA 65 and OpenVPX compliant

Quad Core 2.4 GHz Intel Core i7-4700EQ CPU,
Quad Core 1.7 GHz Intel Core i7-4700EQ CPU,
Dual Core 2.7 GHz Intel Core i5-4400E CPU

Intel Advanced Vector Extensions (AVX2) und AES New Instructions (AES-NI)

Intel QM87 chip set

Up to 32 GB ECC DDR3L-1600 SDRAM, soldered

Dual 8 MB BIOS flash

Two PMC/XMC sites, 32/64bit 33/66/100 MHz, front and rear I/O, XMC site with PCIe x8 Gen2 link

Graphics in CPU integrated with up to 4 DVI ports, DVI-I front panel port via HD-60 connector, 1600×1200 pixel resolution (DVI-D), 1920×1200 pixel resolution (DVI-A), DVI-D port via P3, opt. DVI-D front panel port and DVI-D port via P6

Up to 7 GbE ports, up to 2 front panel ports, up to 5 ports via P4, (three 10/100/1000 and two 1000Base-BX ports)

6 serial ports, 1 RS-232/422/485 port via P6, 1 RS-232 front panel port or via P5, 4 UART ports with TTL level via P5

Up to 4 SATA 6Gbit/s ports, 2 SATA 6Gbit/s ports via P6, opt. 2 SATA 6Gbit/s ports via P4

Opt. 2.5″ SATA 6Gbit/s HDD or SSD, occupies one PMC/XMC site

CompactFlash socket

5 USB 2.0 ports, 2 front panel ports, 2 ports via P6, 1 port via P5

Opt. 3 USB 3.0 ports via P4

16 GPIO ports, 8 ports via P2 and 8 ports via P3

HD audio interface via P4

Four PCIe x8 ports or eight PCIe x4 fabric ports (PCIe Gen1, Gen2 and Gen3)

Up to 4 transparent/non-transparent links with DMA

Insyde Software InsydeH20 BIOS, LAN Boot Firmware

Watchdog timer, real time clock and long duration timer

In 3 environmental classes available: standard (0°C .. 55°C), extended grade (-25°C .. +70°C), and conduction-cooled (-40°C .. +70°C)

2 years warranty
Order Information
6U/4HP CPU board, Dual Core 2.7 GHz Core i7-4400E, 0°C .. 55°C
6U/4HP CPU board, Quad Core 1.7 GHz Core i7-4700EQ, 0°C .. 55°C
6U/4HP CPU board, Quad Core 2.4 GHz Core i7-4700EQ, 0°C .. 55°C
6U/4HP CPU board, -25°C .. +70°C
6U/4HP CPU board, -40°C .. +70°C
6U/4HP CPU board, -40°C .. +85°C conduction-cooled, VPX-REDI
Rear transition module with 3 USB 2.0, 5 RS-232, DVI-D, 4 GbE without magnectis, 2 SATA, 8 GPIOs
Rear transition module with 3 USB 2.0, 5 RS-232, DVI-D, 4 GbE with magnectis, 2 SATA, 8 GPIOs
Rear transition module with 3 USB 3.0, 3 USB 2.0, 5 RS-232, 2 DVI-D, Audio, 3 GbE without magnectis, 3 GbE with magnectis, 4 SATA, 8 GPI, 8 GPIOs, XMC site
Rear transition module with 3 USB 3.0, 3 USB 2.0, 5 RS-232, 2 DVI-D, Audio, 1 GbE without magnectis, 5 GbE with magnectis, 4 SATA, 8 GPI, 8 GPIOs, XMC site
Rear transition module with 3 USB 3.0, 3 USB 2.0, 5 RS-232, 2 DVI-D, Audio, 3 GbE without magnectis, 2 GbE with magnectis, 4 SATA, 8 GPI, 8 GPIOs, XMC site
Rear transition module with 3 USB 3.0, 3 USB 2.0, 5 RS-232, 2 DVI-D, Audio, 1 GbE without magnectis, 4 GbE with magnectis, 4 SATA, 8 GPI, 8 GPIOs, XMC site
2,5" SATA SDD rugged conduction-cooled
60 pol. HD to 1 DVI-I, 1 DVI-D, 2 USB, 1 RS-232 cable
Technical Documentation