AMC-CAN4 4 Channel CAN AMC Module
The AMC-CAN4 is a mid size AMC moldule with a Spartan 3e FPGA. The esd Advanced CAN Core (esdACC) CAN controller is implemented in Spartan 3e and supports the CAN specification 2.0 A/B. The AMC-CAN4 comes with four RJ45 CiA 303-1 ports and the CAN high speed interface is compliant to ISO 11898.

CAN Layer 2 (CAN-API) software driver are available for Windows, RTX, VxWorks, QNX and Linux supporting up to 24 CAN nets. The CANopen software package is available for Windows, VxWorks, RTX, QNX and Linux. The J1939 software package is available Windows VxWorks, QNX and Linux.

Windows, Linux, QNX, VxWorks and RTX are supported.
ORDER NOW
Technical Description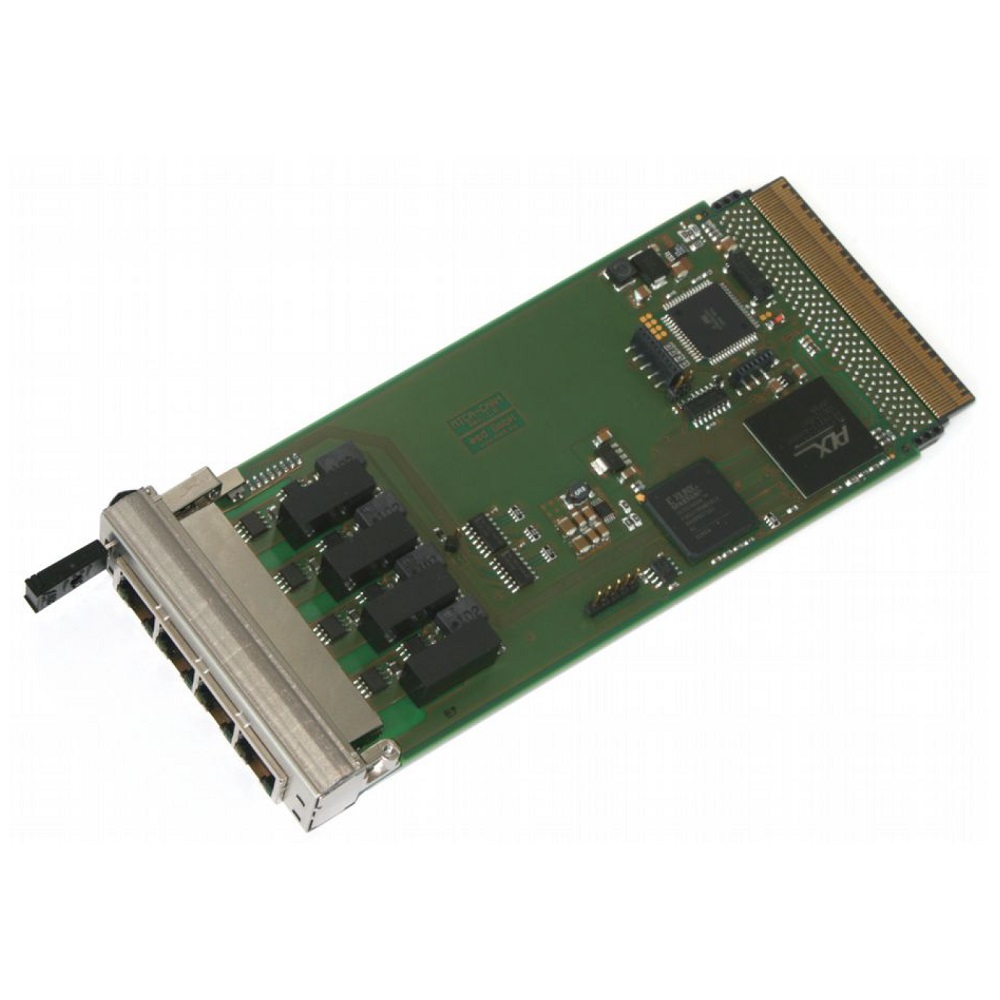 4 Channel CAN AMC module, ISO 11898-1 (CAN 2.0 A/B) compliant
AMC module with AMC.1 type 1, mid size form factor
esdACC in Xilinx Spartan 3e FPGA
4 RJ45 CiA 303-1 ports, ISO 11898-2 compliant
Up to 1 Mbit/s bit rate
11bit and 29bit CAN IDs
Receive buffer (64 CAN messages)
Programmable error warning limit
Listen only mode
Automatic bit rate detection
Channels isolated against controller potential and against each other
0°C .. +70°C operating temperature range
Linux, QNX, RTX, VxWorks and Windows drivers available
2 years warranty
Order Information
4 channel CAN interface, mid size
CAN-DRV-LCD licence and CD-ROM for QNX
CAN-DRV-LCD licence and CD-ROM for RTX
CAN-DRV-LCD licence and CD-ROM for VxWorks
CANopen licence and CD-ROM for Windows/Linux
CANopen licence and CD-ROM for QNX
CANopen licence and CD-ROM for RTX
CANopen licence and CD-ROM for VxWorks
CAN-API application developers manual
CAN-API installation guide
CANopen manager/slave manual
Technical Documentation