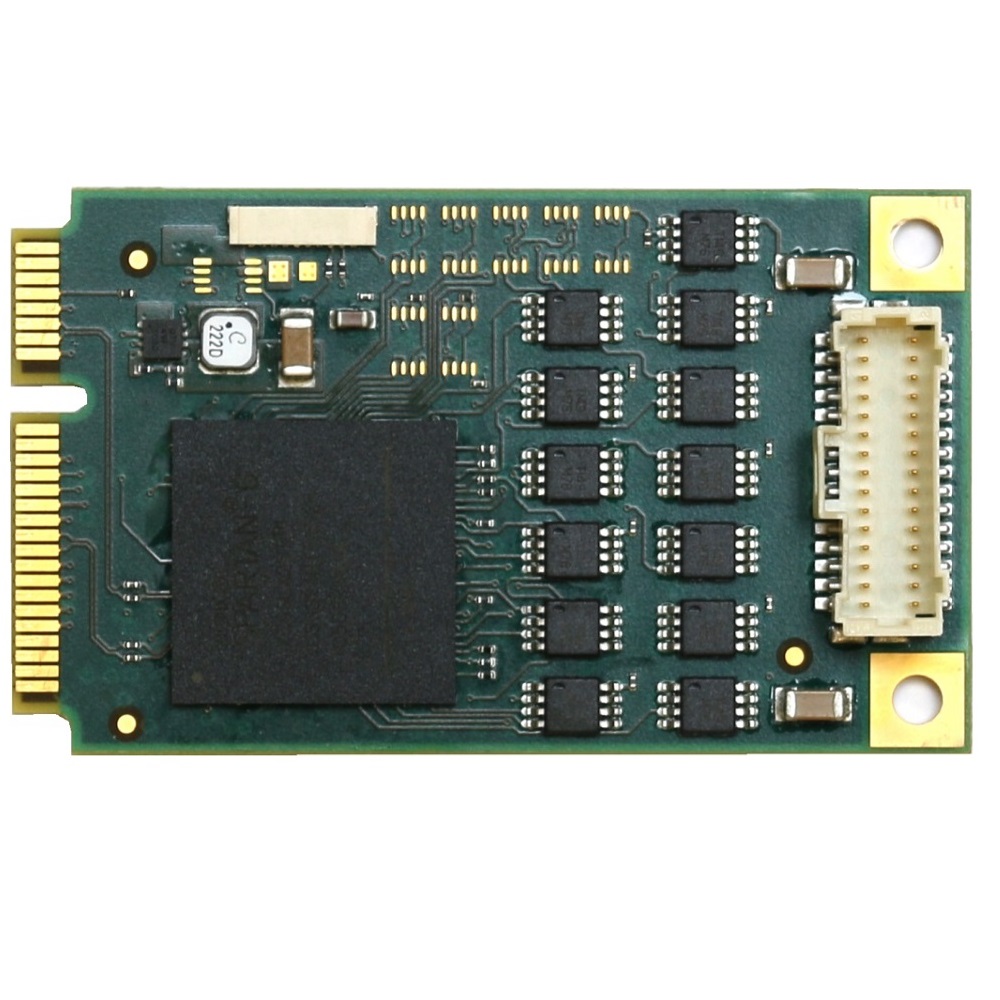 TMPE633 FPGA PCIe mini card with 26 TTL or 13 differential I/Os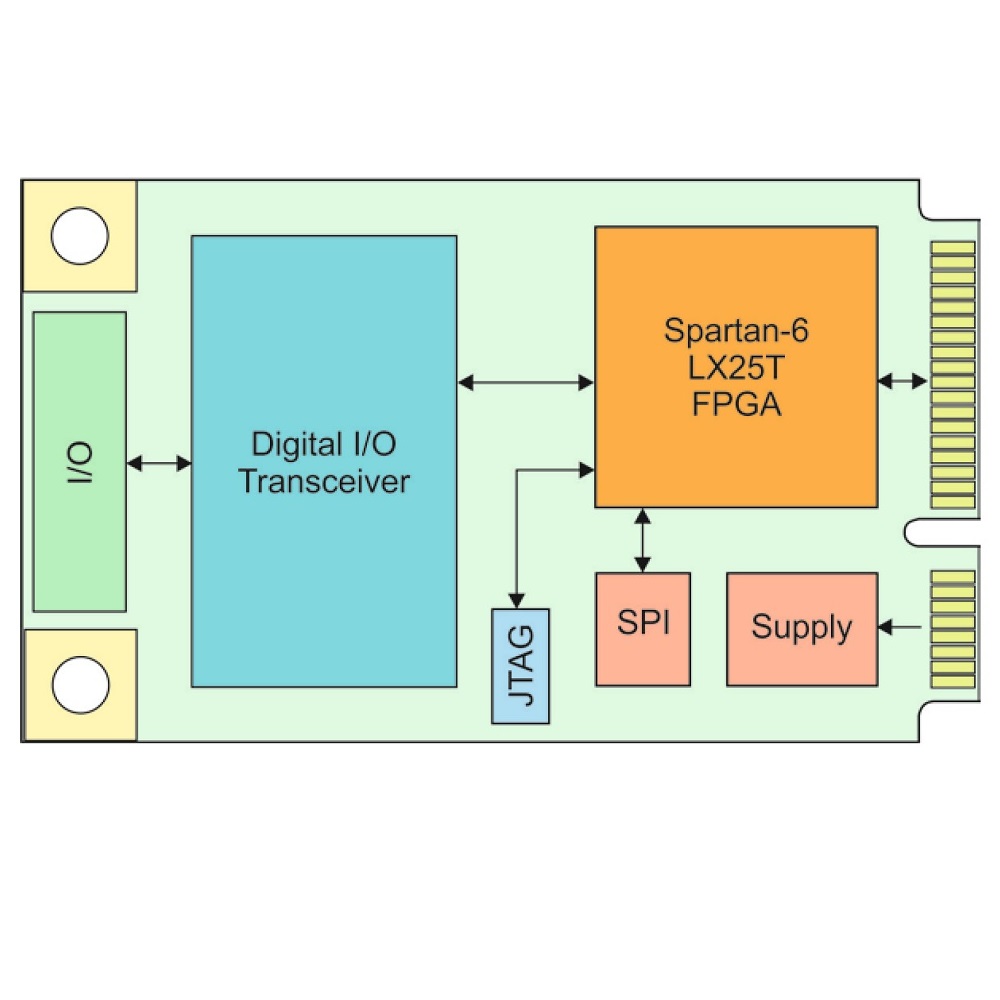 TMPE633 block diagram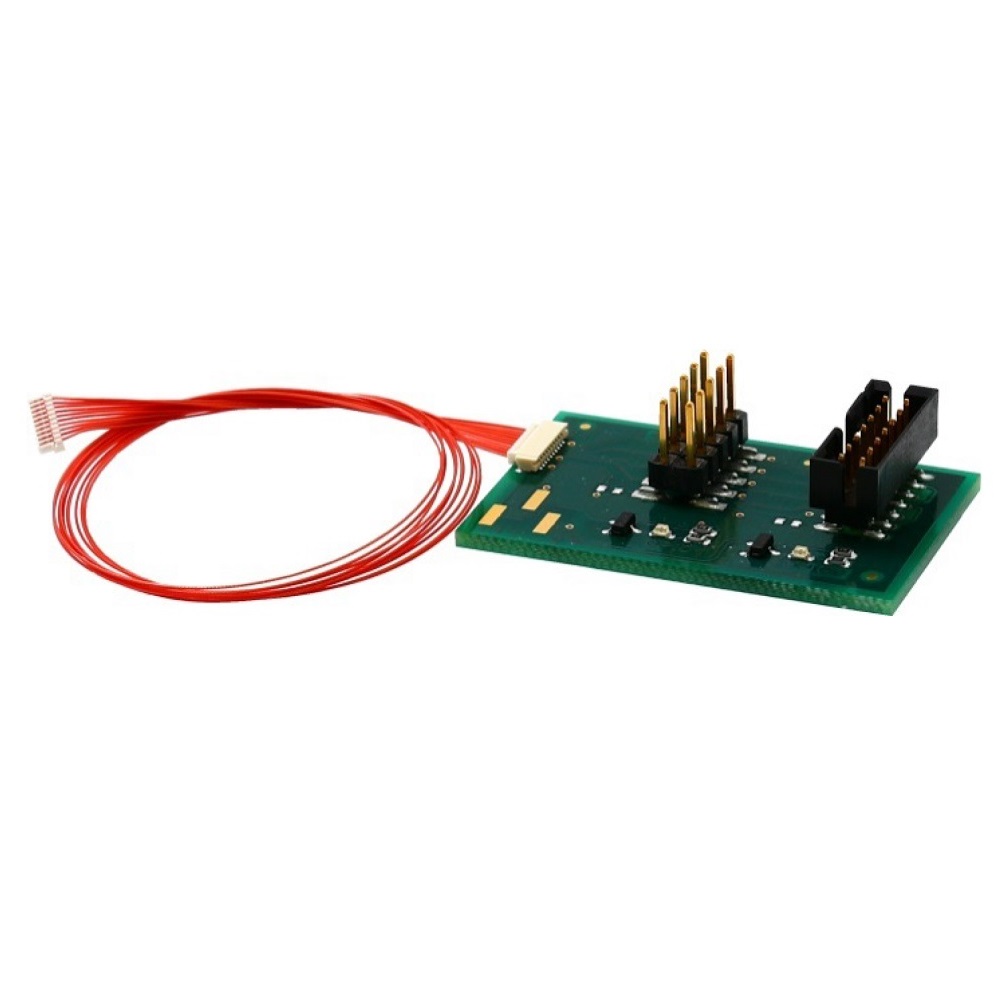 TA308
TA308 with TMPE633-12R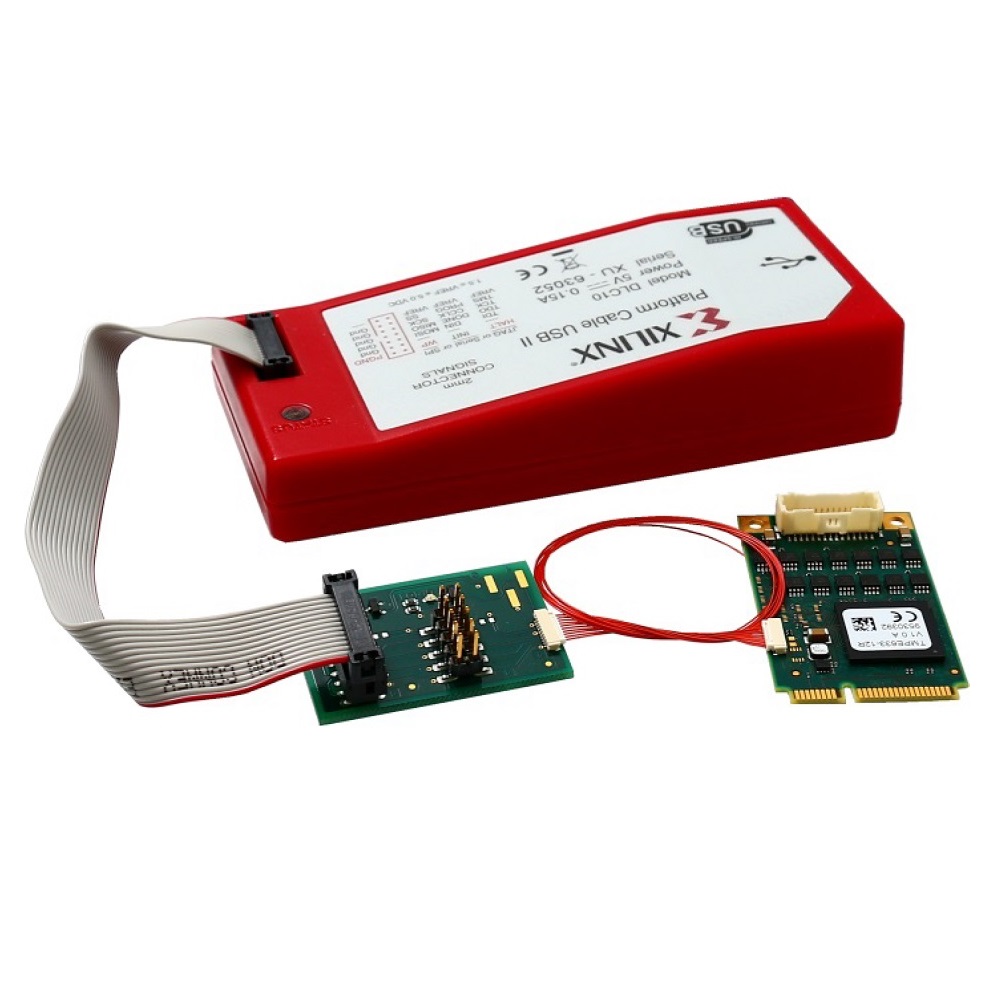 TMPE633-12R & platform cable USB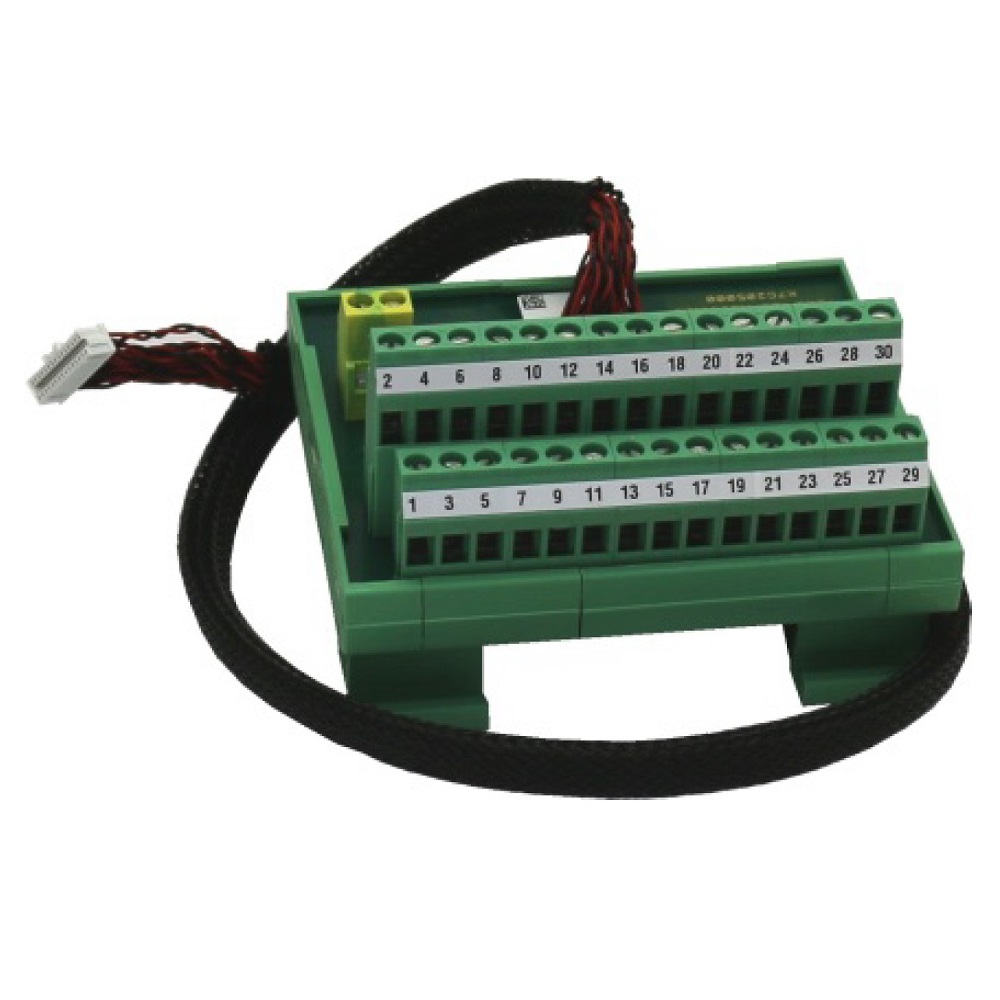 TA309
TMPE633 Reconfigurable FPGA with 26 TTL I/O / 13 Diff. I/O
PCI Express mini card providing a user programmable Xilinx Spartan-6 LX25T FPGA. The TEWS Technologies TMPE633-10R has 26 ESD-protected TTL lines, the TMPE633-11R provides 13 differential I/O lines using EIA-422 / EIA-485 compatible, ESD-protected line transceivers and the TMPE633-12R provides 13 differential I/O lines using Multipoint-LVDS transceivers. All lines are individually programmable as input or output. Each TTL I/O line has a pull-up resistor. The pull-up voltage is selectable to be either +3.3V or +5V. The differential I/O lines are terminated, RS-485 by 120Ω resistors, M-LVDS lines with 100Ω.

The FPGA is configured by a SPI flash. An in-circuit debugging option is available via a JTAG header for read back and real-time debugging of the FPGA design.

The I/O signals of the TMPE633 are accessible through a 30pin latching connector.

A wide range of drivers is available: Linux, VxWorks and Windows. All drivers - except the Windows drivers - are supplied as C source code.
ORDER NOW
Technical Description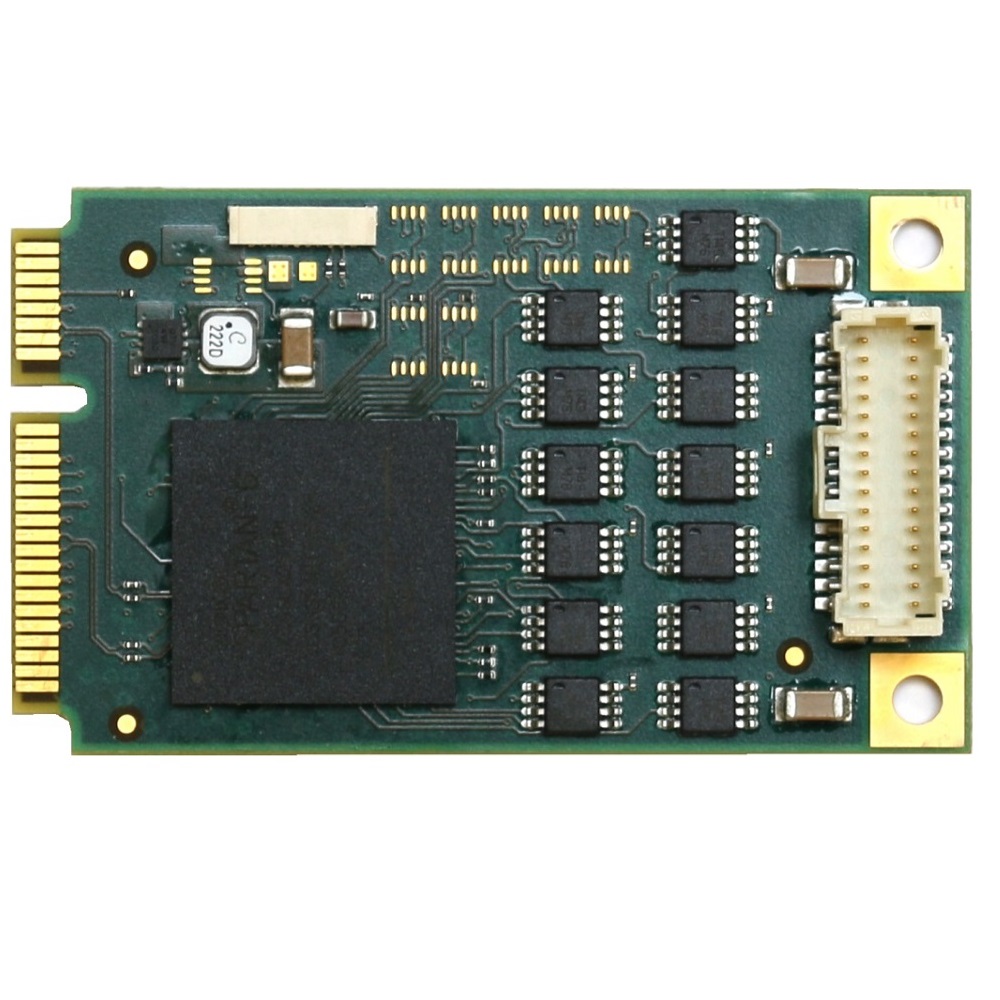 PCIe Mini Card, PCIe 1.1 interface, 50,95 x 30,00 mm
Xilinx XC6SLX25T-2 Spartan-6 FPGA
64Mbit SPI EEPROM for FPGA configuration and user data
I/O lines: 26 ESD protected 5V tolerant TTL I/O with prog. pull resistor (-10R), 13 differential I/O RS-485 (-11R) and 13 differential M-LVDS I/O (-12R), direction individually programmable
I/O via 30pin latching connector
-40°C .. +85°C operating temperature range
Integrity, Windows, Linux,  QNX, and VxWorks drivers available
5 years warranty
Order Information
Spartan-6 FPGA PCIe mini card with 26 TTL I/Os
Spartan-6 FPGA PCIe mini card with 13 RS-485 I/Os
Spartan-6 FPGA PCIe mini card with 13 M-LVDS I/Os
Cable kit for modules with XRS JTAG connector
Cable kit for modules with Pico-Clasp connector
Technical Documentation