MVME3100 VMEbus CPU Board with 2eSST High-Speed Bus Interface and MPC8540 Processor
VMEbus CPU with 320 MB/s 2eSST Bus Interface and MPC8540 PowerPC CPU for cost-sensitive Applications
The MVME3100 is ARTESYN Embedded Technologies' second VMEbus single-board computer (SBC) designed with the Tundra Tsi148™ VMEbus interface chip offering 2eSST VMEbus performance. The MVME3100 has been optimized for performance, flexibility and price and addresses a wide range of applications including industrial control, test/measurement and image processing. The MVME3100 delivers a 4x or better performance advantage, at a similar price point, compared to the MVME162 and MVME2300 products.

The MVME3100 is built around the MPC8540 system-on-chip (SoC) processor, which allows the MVME3100 to offer lifecycle, power/thermal and reliability advantages not typically found in industrial PCs. The MPC8540 integrates the processor, memory controller, PCI-X controller and dual GbE interfaces into a single, low-power (< 7W) device. Utilizing the 2eSST VMEbus protocol interface, the MVME3100 is capable of transferring data across the VMEbus at 320 MB/s. The combination of the 2eSST VMEbus, GbE, USB 2.0 and SATA interfaces, along with dual PMC-X sites, enables customers to cost-effectively build systems with real-world interfaces, while strategically leveraging their existing investments in VMEbus infrastructure and longer lifecycle products.

The MVME3100 is a cost-effective SBC for industrial control applications. In addition to these traditional control applications, the MVME3100 can be used in conjunction with the MVME6100 to deliver very high performance solutions. For instance, the MVME3100 can be utilized as an intelligent PMC carrier that can perform front-end processing of the data before it is transferred across the VMEbus utilizing the 320 MB/s of 2eSST bandwidth to an MVME6100 board for back-end processing utilizing the AltiVec-enabled processor on the MVME6100 board.

With PMCspan modules an assembly of up to 4 more 64 bit PMC sites is possible.

The MVME3100 series supports booting a variety of operating systems including a complete range of real-time operating systems and kernels. OS-9 and VxWorks Board Support Package (BSP), and Linux support are available for the MVME3100 series.
ORDER NOW
Technical Description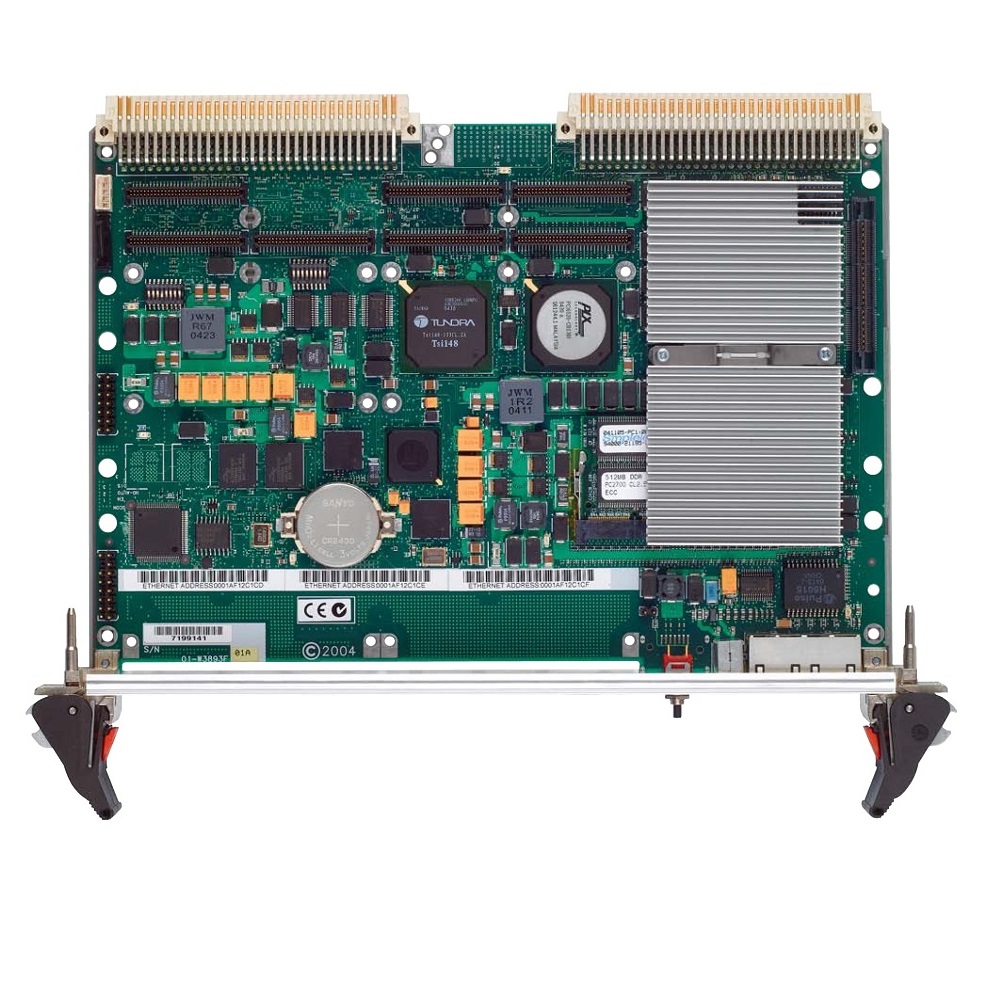 667 or 833 MHz MPC8540 SoC PowerPC processor
32K/32K L1 cache, 256K L2 cache
256 or 512 MB ECC DDR-RAM
64 or 128 MB on-board FLASH memory
Two PMC-X sites for 64 bit/100MHz 3.3/5Vio PMC modules, IEEE P1386.1 compliant, FP I/O, one site Pn4 I/O via P2
32 bit PMCspan expansion connector
On-board monitor/debugger with self test capabilities
RS232 console port and four 16550 compliant ports
RTC with Li battery backup
Two 10/100/1000BaseTX Gigabit Ethernet ports and one Fast Ethernet port
A16, A24, A32, D08-D64, SCT, BLT, MBLT, 2eVME, 2eSST and UAT VMEbus-Master/Slave-Interface with system controller functions, IRQ handler/generator IRQ1-7, Tundra Tsi148 VME/2eSST-to-PCI-X Bridge
Power dissipation 22.5W typ., 28W max.
2 years warranty, opt. extendable to 5 years
Order Information
667MHz MPC8540, 256MB DDR-RAM, 64MB Flash, Gigabit Ethernet, and SATA
833MHz MPC8540, 512MB DDR-RAM, 128MB Flash, Gigabit Ethernet, SATA, USB 2.0, and PMCspan PCI expansion connector
Transition module for MVME3100
1st PMC expansion board, 2 PMC sites, IEEE 1101 handles
2nd PMC expansion board, 2 PMC sites, IEEE 1101 handles
Technical Documentation