NAMC-ZYNQ-FMC FMC Carrier with Xilinix ZYNQ-7000 FPGA
AMC module featuring a Xilinx ZYNQ-7000 FPGA and an FPGA mezzanine card (FMC) slot to connect MicroTCA systems with FMC modules. The ZYNQ-7000 FPGA provides the software programmability of a dual-core ARM Cortex A9 processor with the hardware programmability of an FPGA. The NAMC-ZYNQ-FMC from NAT combines performance with the ability to add functionality through a wide range of off-the-shelf FMCs, including analogue-to-digital and digital-to-analogue converters, digital I/O and RFmodules. The SoC interfaces directly to the FMC slot via a high pin-count connector and to the MicroTCA backplane using PCI Express, RapidIO (SRIO) or XAUI (10 GbE).

DDR3 memory is accessible by both the FPGA and processor sections of the SoC allows for large buffer sizes and queuing during processing. The module offers 1 GB 64-bit and 512 MB 32-bit memory banks. The module also features 256 MB NOR quad SPI flash memory for fast random read performance and a MicroSD card slot for storage and application code.
ORDER NOW
Technical Description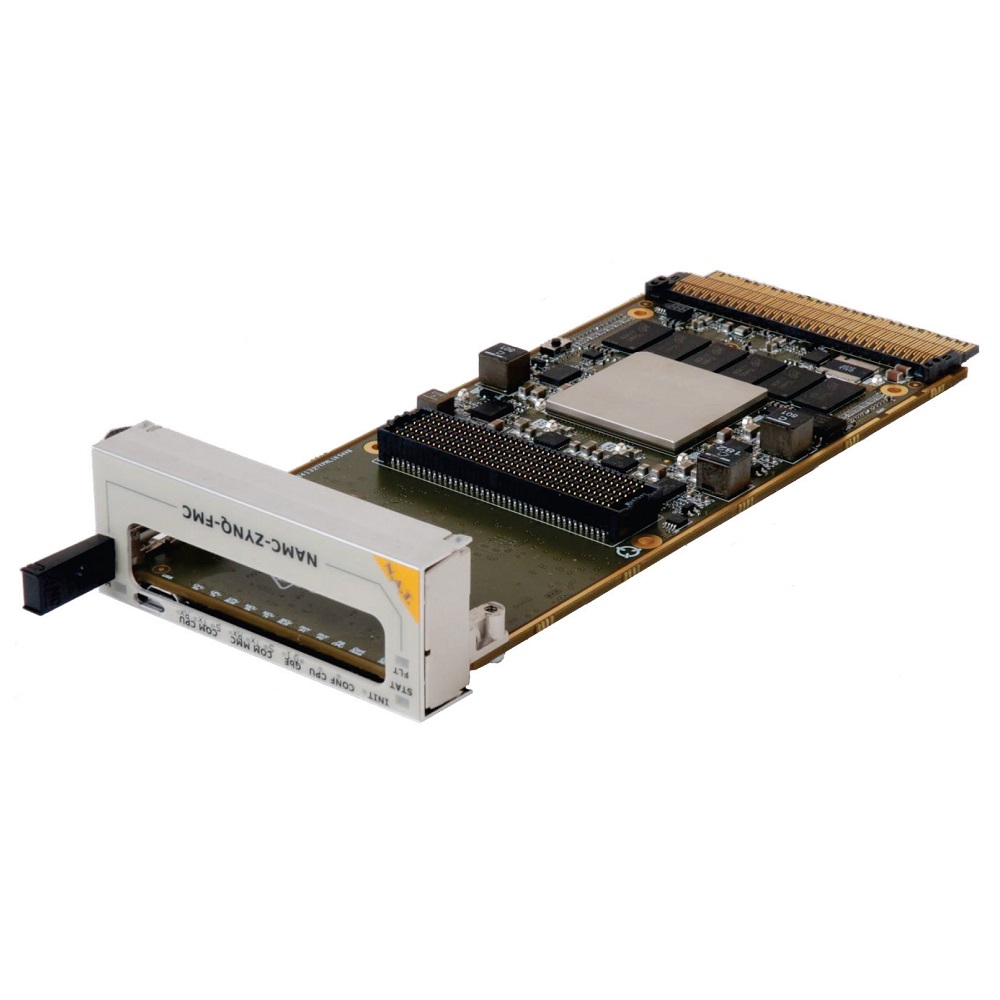 AMC carrier with FPGA for FMC modules, mid size or full size form factor, AMC.1, AMC.2, AMC.3, AMC.4 and IPMI 2.0 compliant

Xilinx ZYNQ-7000 XC7Z045 or XC7Z100 FPGA

High pin-count FMC slot complies with VITA 57.1

1GB 64bit DDR3 RAM

512MB 32bit DDR3 RAM

256 MB NOR quad SPI flash memory

MicroSD card slot

Dual UART-USB to ARM core and MMC on the front panel

JTAG access over backplane

Backplane connection:

Full AMC TCLKA-D and FCLKA connectivity

Dual 1GbE connect to port 0 and port 1

One PCIe x8 Gen2 to Fat-Pipe-Region ports 4-11 or
dual PCIe x4 Gen2 to Fat-Pipe-Region ports 4-7 and ports 8-11 or
dual SRIO x4 Gen2 to Fat-Pipe-Region ports 4-7 and ports 8-11 or
dual XAUI (10GbE) to Fat-Pipe-Region ports 4-7 and ports 8-11

Extended: Ports 12-15 routed to FPGA (2 x 4 LVDS)

2 years warranty
Order Information
AMC, Zynq-7000 XC7Z045, mid size
AMC, Zynq-7000 XC7Z045, full size
AMC, Zynq-7000 XC7Z100, mid size
AMC, Zynq-7000 XC7Z100, full size
FMC module with 4 GbE front panel ports with support for Power over Ethernet
N.A.T. board support package Linux
N.A.T. firmware package AXI interface for Vivado software
Technical Documentation
NAMC-ZYNQ-FMC user manual