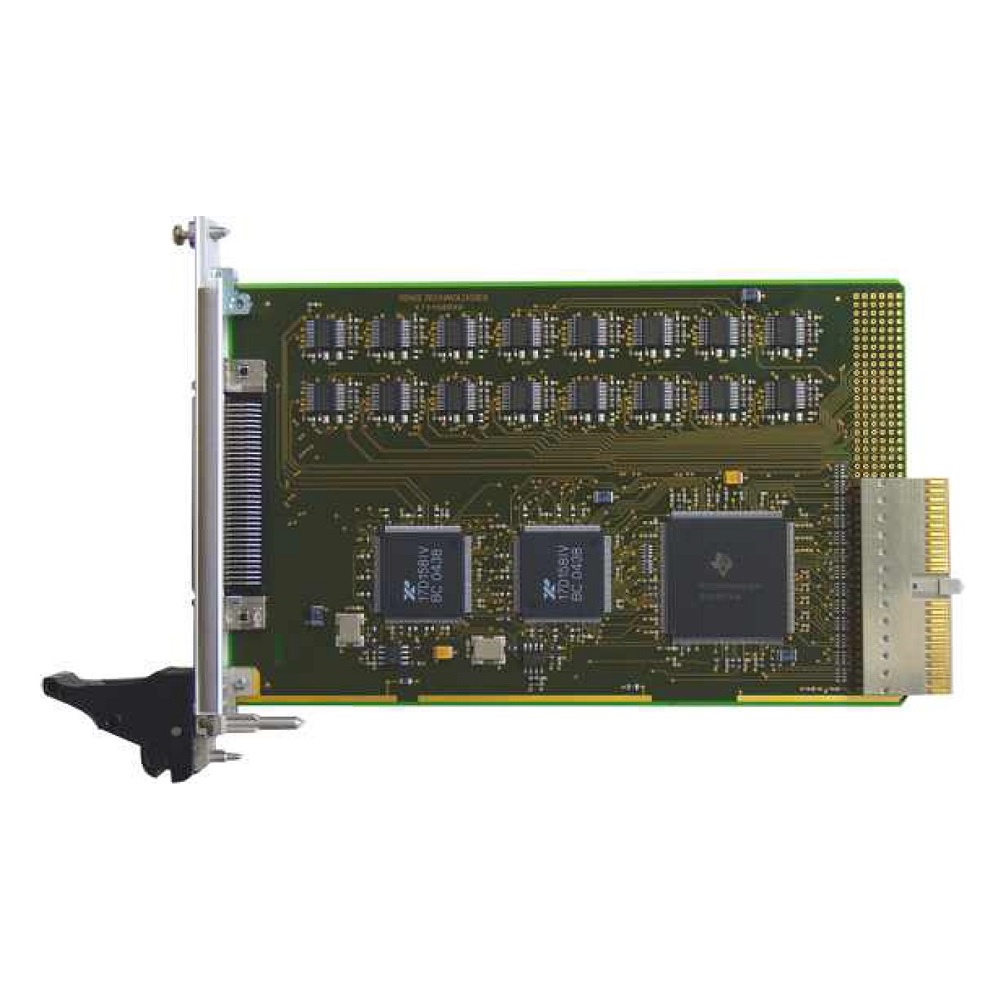 TCP460 16 Port RS232/422 3U CompactPCI Serial Interface
TCP461 8 Port RS232/422 3U CompactPCI Serial Interface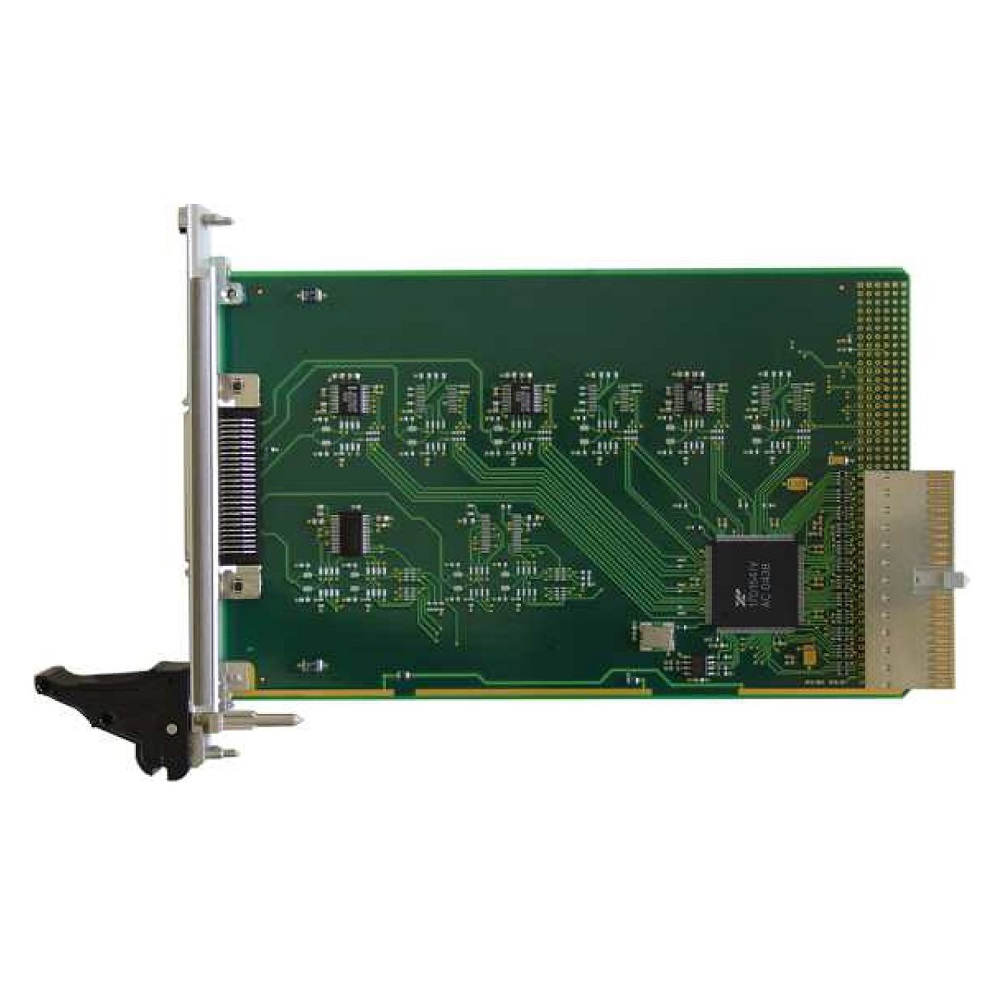 TCP462 4 Port RS232/422 3U CompactPCI Serial Interface
TCP463 4 Port RS232/422 3U CompactPCI Serial Interface with RJ45 Front Panel I/O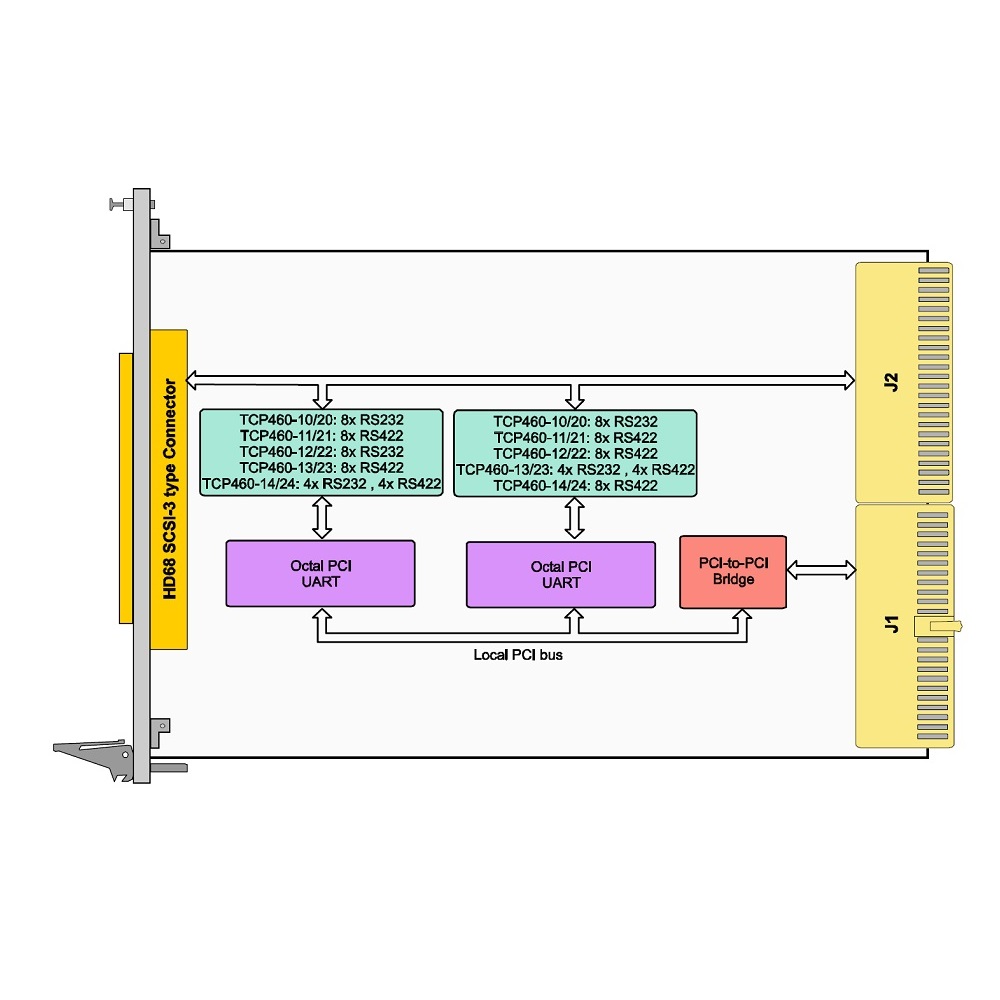 TCP460 Block Diagram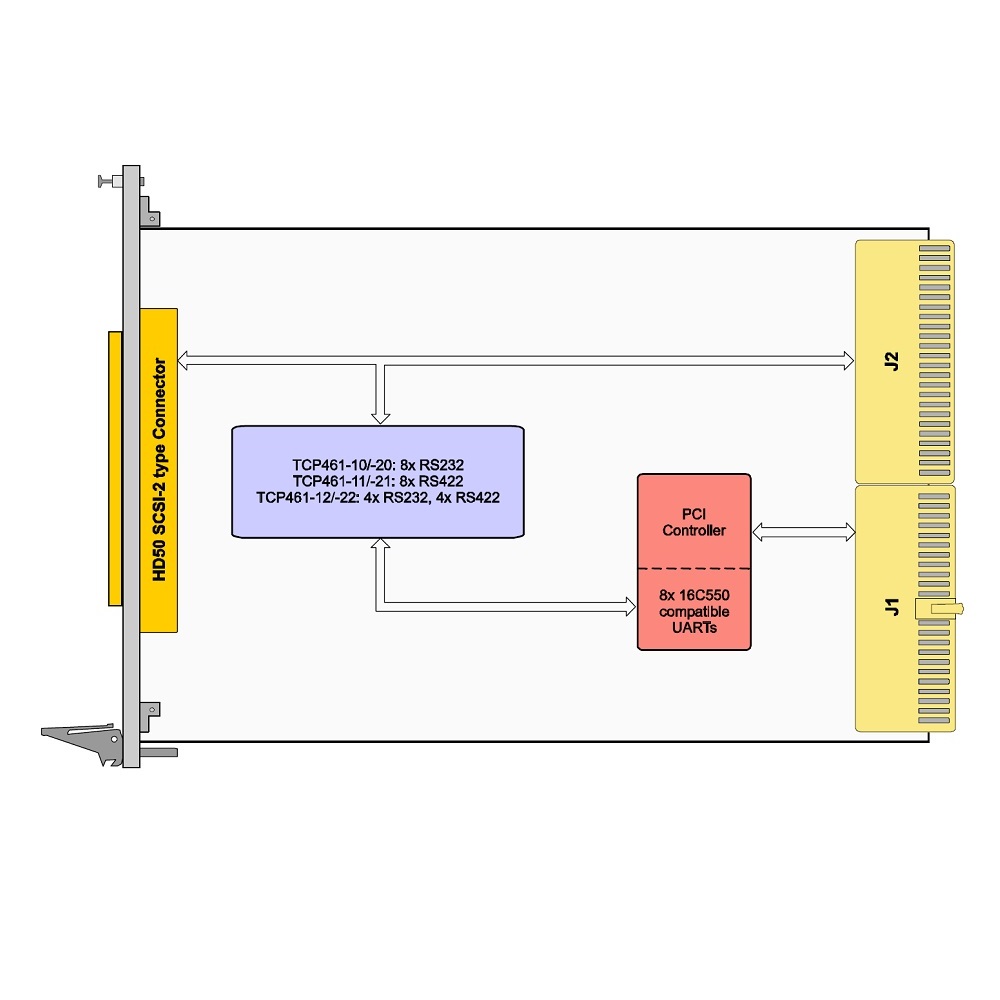 TCP461 Block Diagram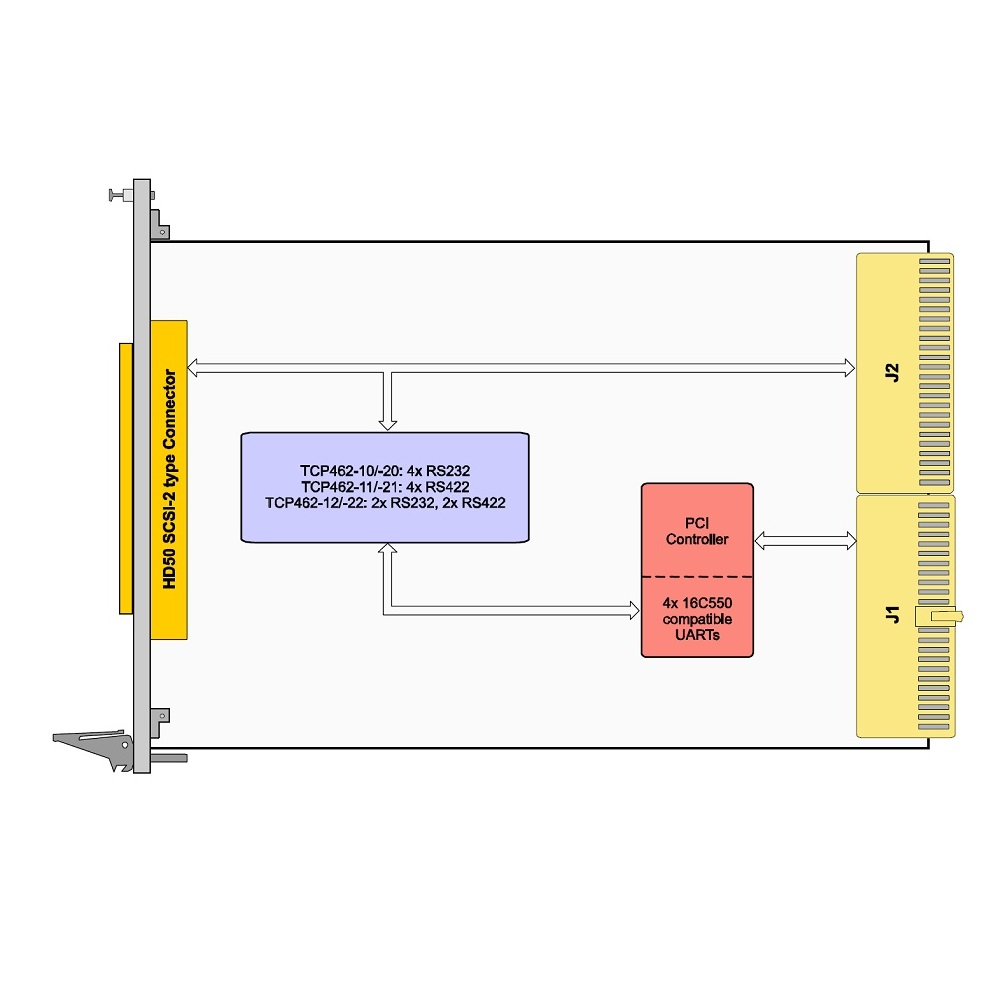 TCP462 Block Diagram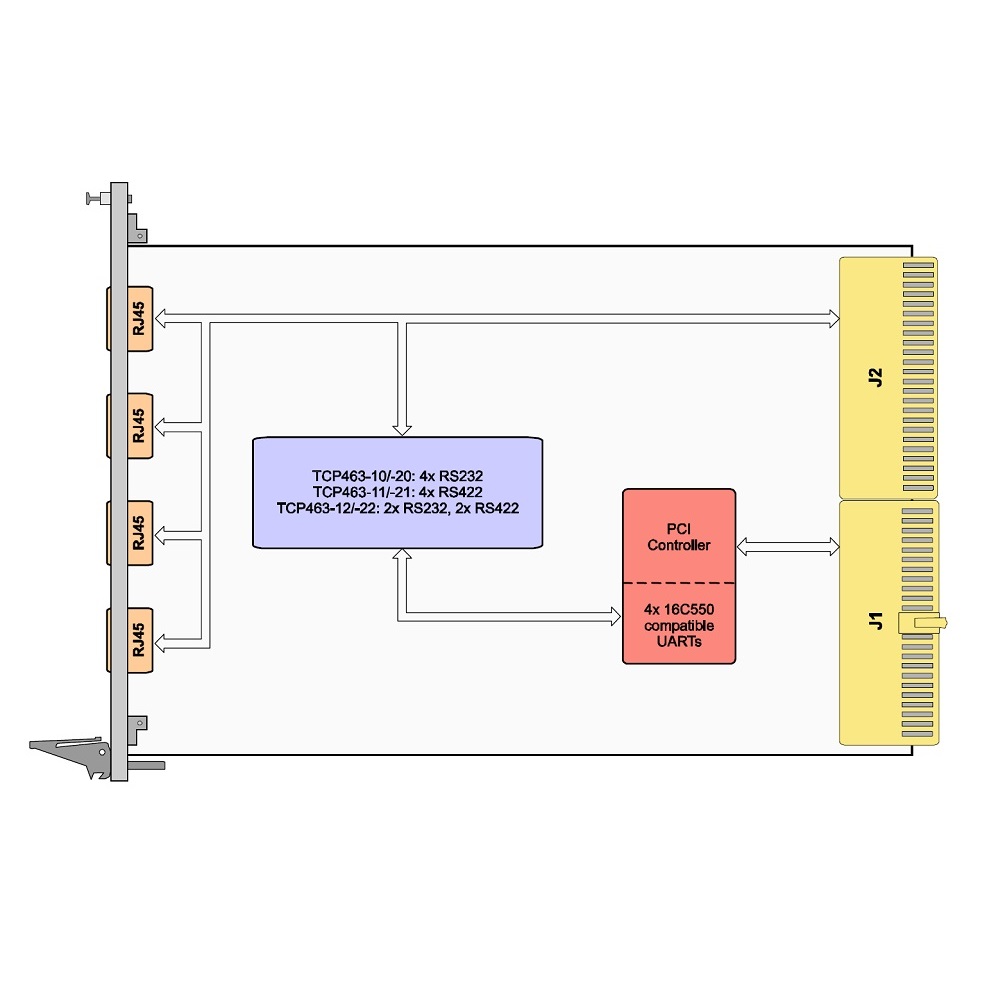 TCP463 Block Diagram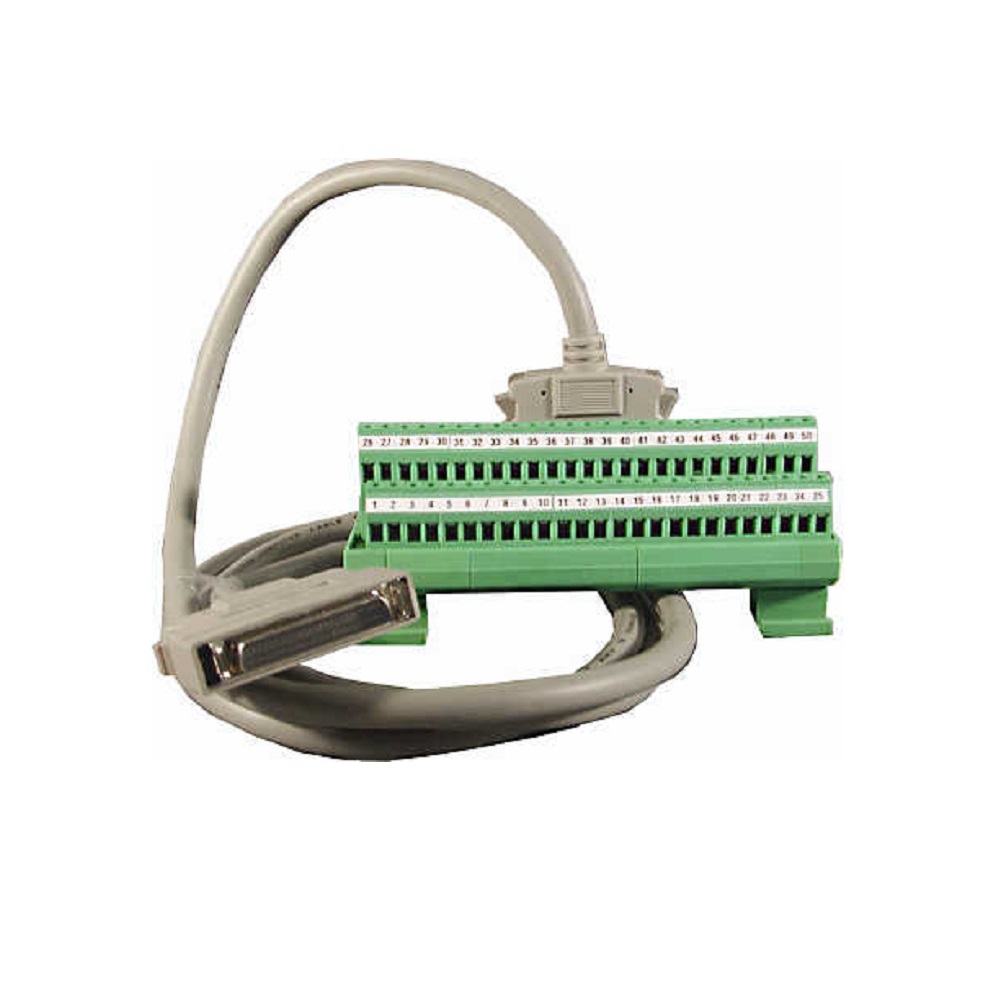 TA301-10 Connection Kit 1.8m Cable with HD-50 Connectors and 50 Pin Terminal Block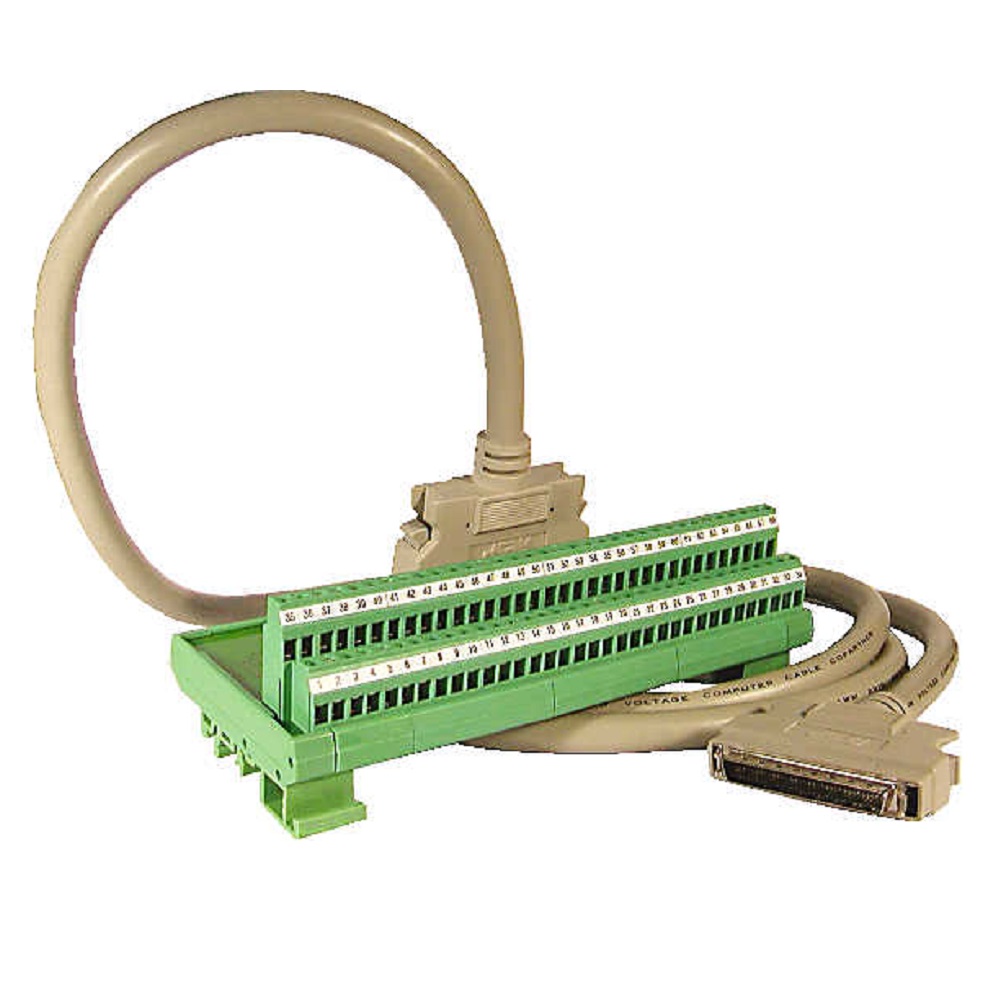 TA304-10 Connection Kit: 1.8m Cable with HD-68 Connectors and 68 Pin Terminal Block
TCP460 Series 4, 8, or 16 Port High-Speed RS232/422 Serial Interface
3U CompactPCI module series offer a 4, 8, or 16 channel high performance serial interface with several combinations of RS232 and/or RS422 interfaces.

The TEWS TCP460 series come with different types of front panel connectors. The TCP460 modules have 16 channels with an HD68 connector, the TCP461's have 8 ports and HD50, the TCP462's have 4 ports and HD50, and the TCP463's have 4 ports with RJ45 connectors. Optional all modules also offer J2 I/O.

All RS232 channels support RxD, TxD, RTS, and CTS. The TCP463 offers additional the DTR, CD, and DSR/RI signals. Two channels of the TCP461 and one channel of the TCP462 have all signal lines for full modem support.

All RS422 channels support RxD+/- and TxD+/-. Two channels of the TCP461-11, one channel of the TCP462-11, and all channels of the TPMC463's offer also the RTS+/- and CTS+/- signal lines.

Each channel has 64 byte transmit and receive FIFOs. The FIFO trigger thresholds, and the baud rates are individually programmable: up to 921.6 kbps for RS232 channels, and 5.5296 Mbps for RS422 channels. All channels generate interrupts on PCI interrupt INTA. For fast interrupt source detection the UART provides a special global interrupt source register. All channels use transceivers with 15 KV ESD protection.

A wide range of drivers is available: Linux, Integrity, QNX, VxWorks and Windows. All drivers - except the Windows drivers - are supplied as C source code.

The modules are also available as TPMC46X modules in PMC form factor.
ORDER NOW
Technical Description
3U CompactPCI board, PICMG 2.0 Rev. 3.0, 32-bit/33MHz PCI interface, PCI 2.3 compliant, 3.3/5V Vio
TCP460: 16 RS232/422 ports
TCP461: 8 RS232/422 ports
TCP462 and TCP463: 4 RS232/422 ports
RS232 signals: TxD, RxD, RTS, and CTS,
the TPMC463 has also DTR, CD, and DSR/RI,
add. full modem support for one channel on the TCP462 and for two on the TCP461
RS422 signals: TxD+/- and RxD+/-,
add. RTS+/- and CTS+/- signals available on one TCP462-11 port, on two TCP461-11 ports, and on all TCP460 ports,
RxD+/- and CTS+/- with 120 W termination
TCP460 has front panel I/O via HD68 connector and optional J2 I/O
TCP461 and TCP462 have front panel I/O via HD50 connector and optional J2 I/O
TCP463 has front panel I/O via four RJ-45 jacks and optional J2 I/O
Exar XR17D154 or XR17D158 controller
64 byte receive and 64 byte transmit FIFOs per channel
Data rates up to 5.5296 Mbit/s via RS-422 and 921.6 Kbit/s via EIA-232
15 KV ESD protection
-40°C .. +85°C operating temperature range
Linux, Integrity, QNX, VxWorks, and Windows drivers available
5 years warranty
Order Information
16 RS232 ports, HD68 front panel I/O
16 RS422 ports, HD68 front panel I/O
8 RS232 and 8 RS422 ports, HD68 front panel I/O
12 RS232 and 4 RS422 ports, HD68 front panel I/O
4 RS232 and 12 RS422 ports, HD68 front panel I/O
As TCP460-10 but also J2 I/O
As TCP460-11 but also J2 I/O
As TCP460-12 but also J2 I/O
As TCP460-13 but also J2 I/O
As TCP460-14 but also J2 I/O
8 RS232 ports, HD50 front panel I/O
8 RS422 ports, HD50 front panel I/O
4 RS232 and 4 RS422 ports, HD50 front panel I/O
As TCP461-10 but also J2 I/O
As TCP461-11 but also J2 I/O
As TCP461-12 but also J2 I/O
4 RS232 ports, HD50 front panel I/O
4 RS422 ports, HD50 front panel I/O
2 RS232 and 2 RS422 ports, HD50 front panel I/O
As TCP462-10 but also J2 I/O
As TCP462-11 but also J2 I/O
As TCP462-12 but also J2 I/O
4 RS232 ports, RJ45 front panel I/O
4 RS422 ports, RJ45 front panel I/O
2 RS232 and 2 RS422 ports, RJ45 front panel I/O
As TCP463-10 but also J2 I/O
As TCP463-11 but also J2 I/O
As TCP463-12 but also J2 I/O
Connection kit, 1.8m cable with HD-50 connectors and 50 pin terminal block
Connection kit, 1.8m cable with HD-68 connectors and 68 pin terminal block
6U front panel extension for 3U CPCI boards
Technical Documentation