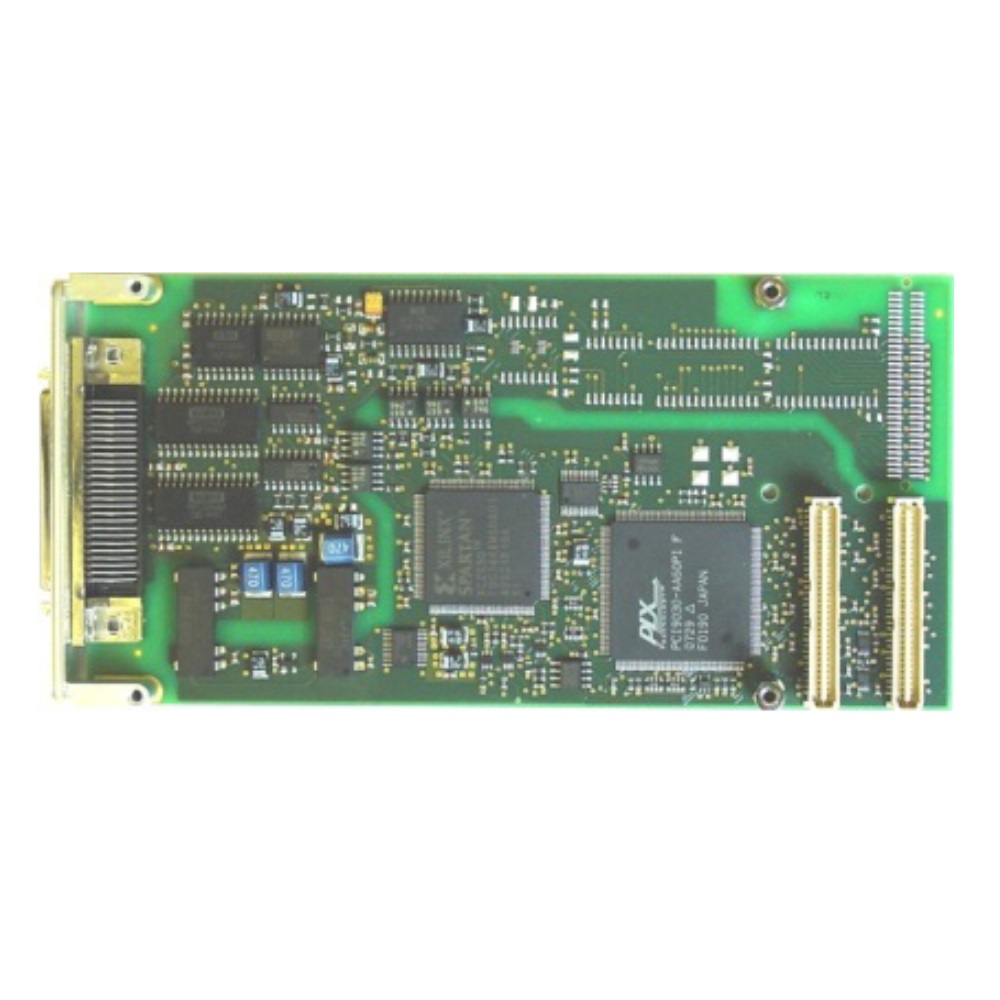 TPMC501 32 Channel 16 bit ADC with Insulation and 12µs Conversion Time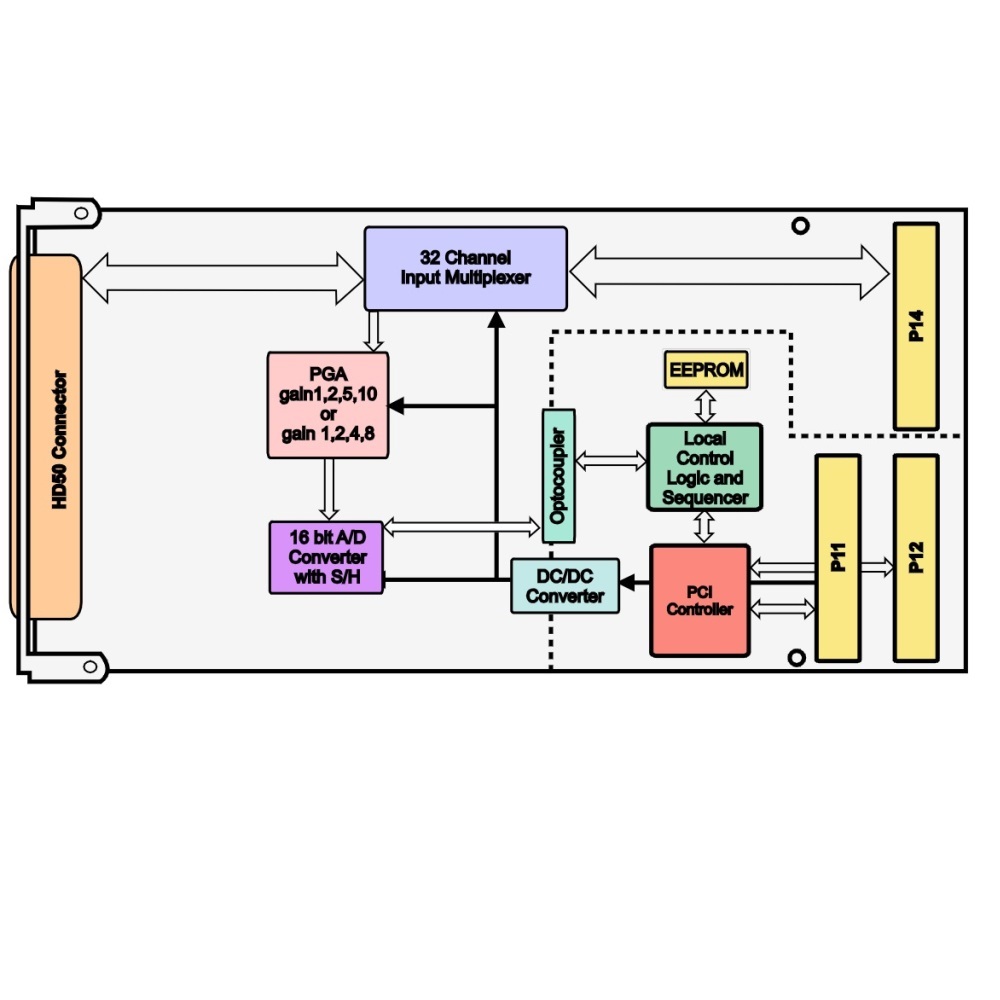 TPMC501 Block Diagram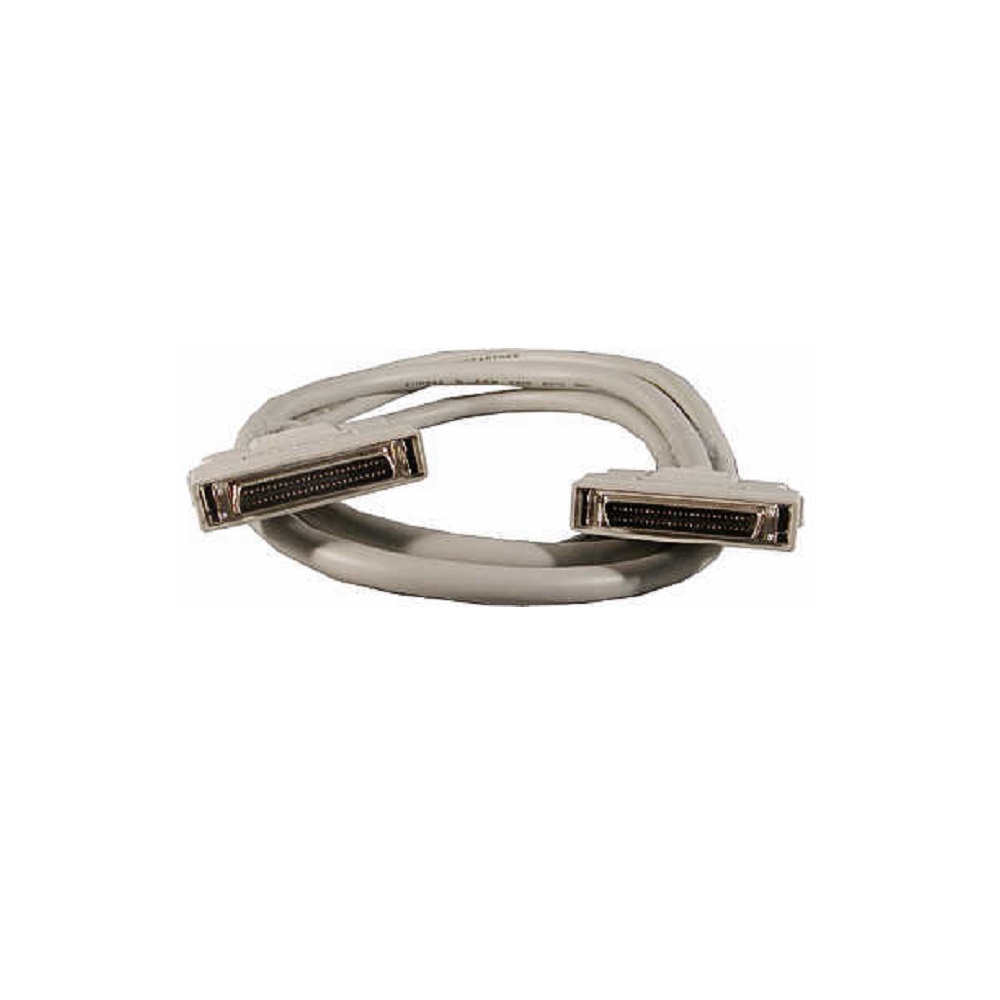 TA101-10 1.8m Cable with HD-50 Connectors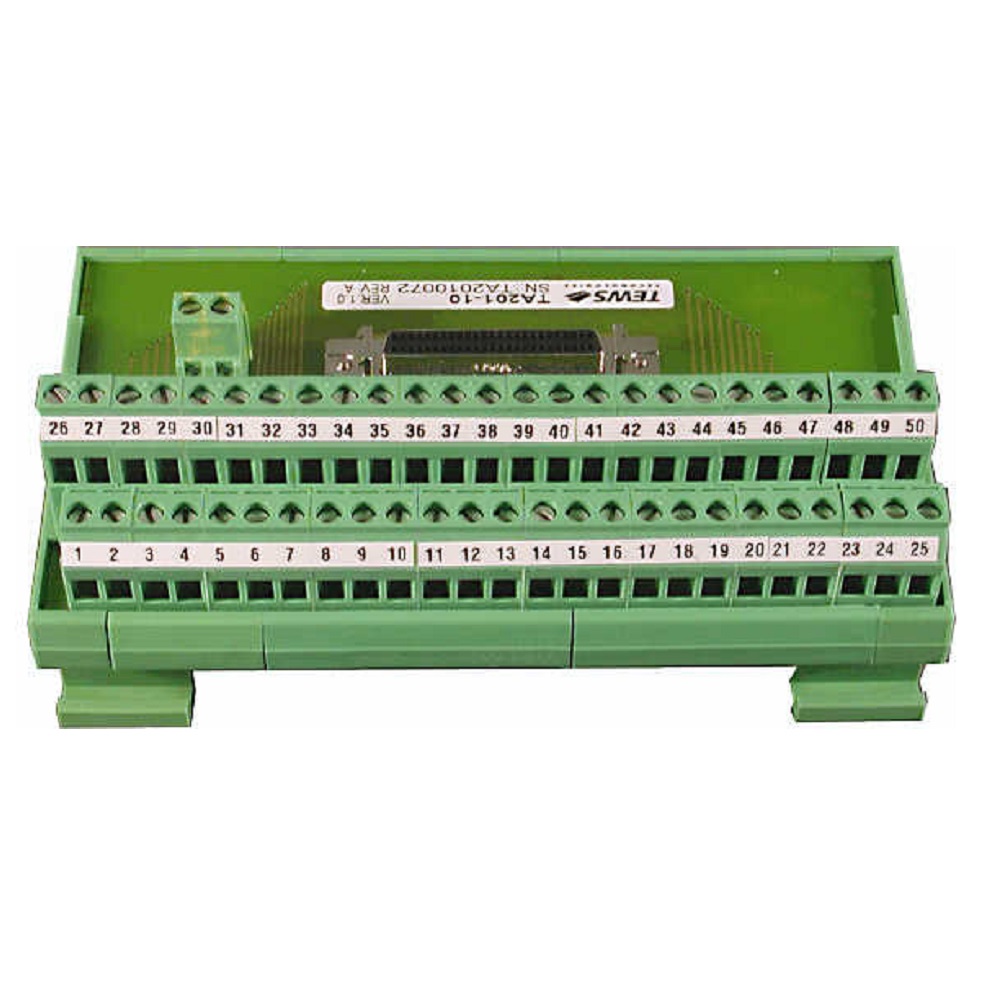 TA201-10 50 Pole Terminal Block with HD-50 Connector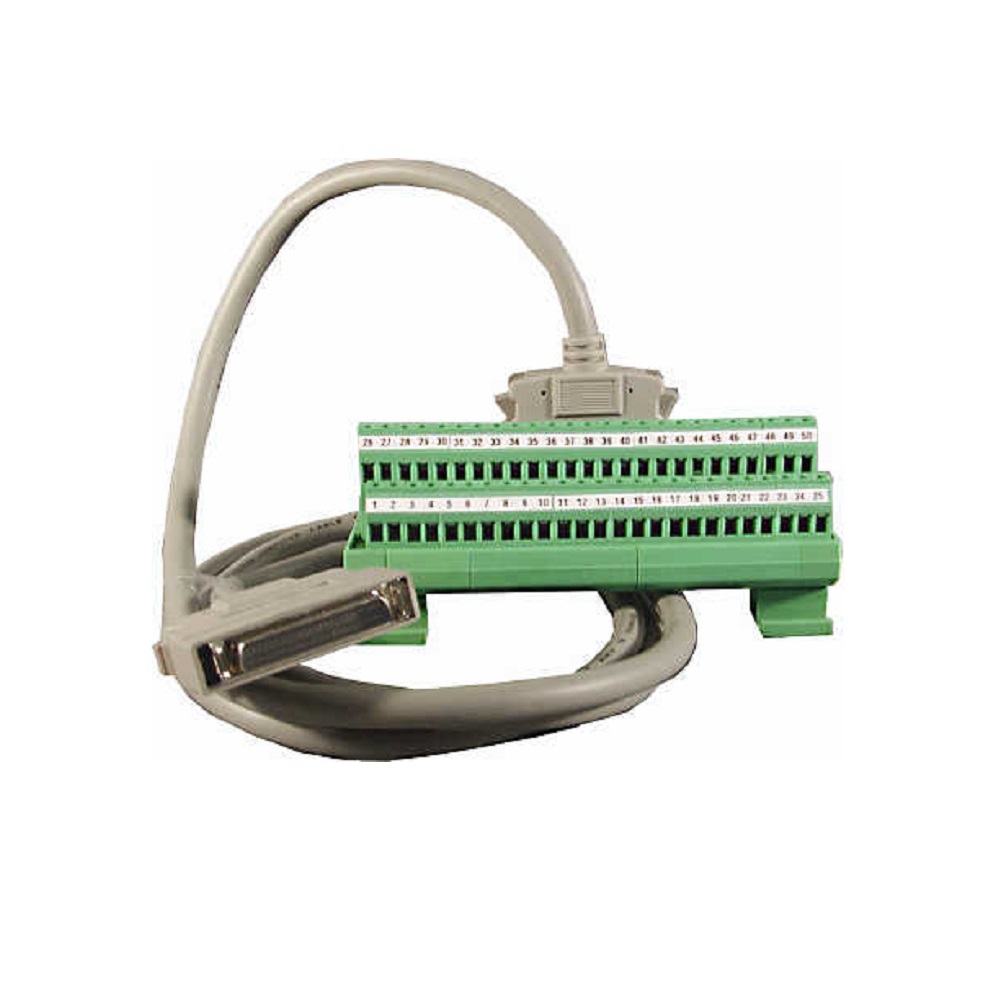 TA301-10 Connection Kit, 1.8m Cable with HD-50 Connectors and 50 Pole Terminal Block
TPMC501 32 Channel Insulated 16 Bit AD Converter
Insulated 32 multiplexed 16 bit ADC with on board DC/DC converters. The data acquisition and conversion time is mode-dependent: Maximum 12µs without channel / gain change, maximum 14.5µs with channel / gain change. The 32 ADC input channels can be software configured to operate in single-ended or differential mode with 16 input channels. A mixed mode is possible.

The ADC multiplexer is overvoltage protected up to 70 Vpp. A programmable gain amplifier allows gains of 1, 2, 5, 10 (TPMC501-10, -12, -20, and 22) and 1, 2, 4, 8 (TPMC501-11, -13, -21, and 23). The full-scale input voltage range is +/-10V for the TPMC501-10, -11, -20, -21 and 0V to 10V for the TPMC501-12, -13, -22, -23 (for gain = 1). Additionally the TPMC501 provides a sequencer to control the analogue inputs without loading the Host CPU. The sequence timer is programmable from 100µs to 6.5535s in steps of 100µs. Each TPMC501 is factory calibrated. The calibration data is stored in an EEPROM unique to each TPMC501.

A wide range of drivers is available: Linux, Integrity, QNX, VxWorks and Windows. All drivers - except the Windows drivers - are supplied as C source code.
ORDER NOW
Technical Description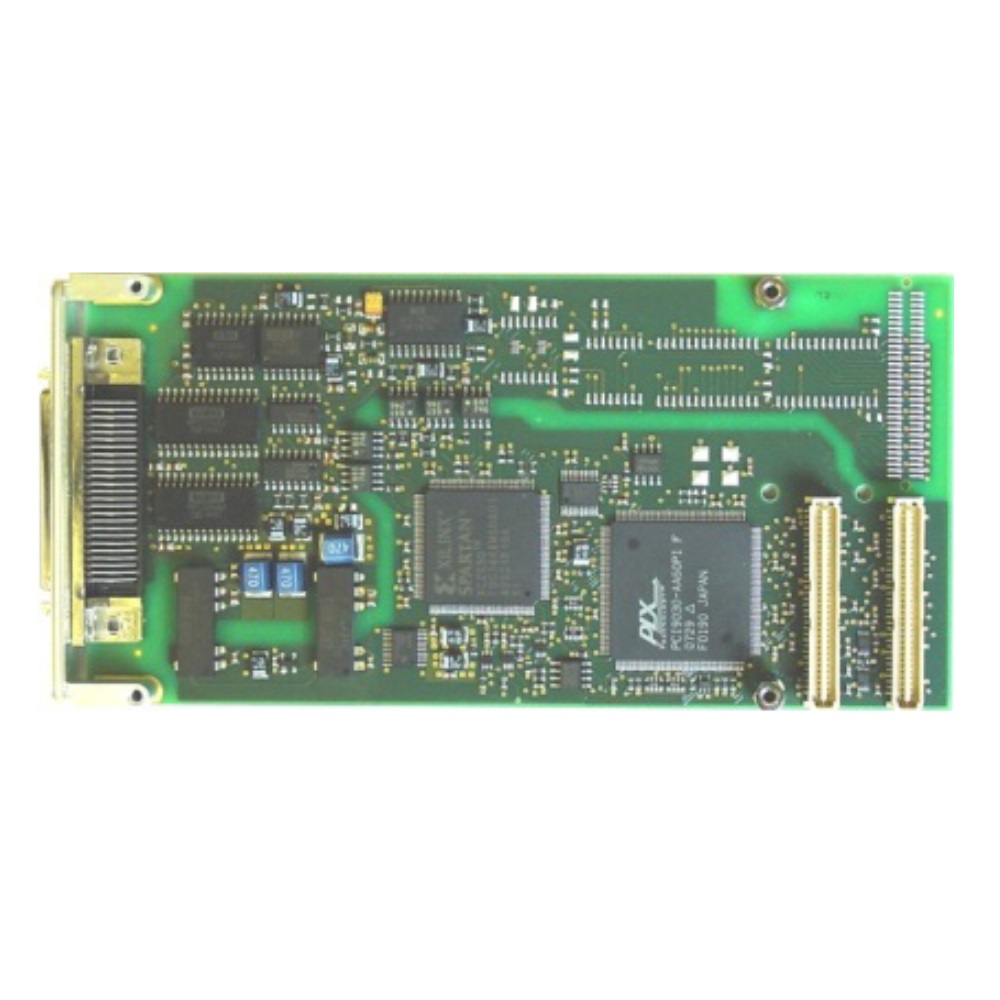 PMC module, 32 bit/33MHz PCI interface, IEEE P1386.1 compliant, PCI 2.1 compliant
32 single-ended or 16 differential 16 bit AD inputs, insulated, AD converter with internal S/H and reference
12µs conversion time w.o. and 14.5µs with channel/gain chance
Input multiplexer with ESD protection
Prog. gain amplifier of 1, 2, 5, 10 or 1, 2, 4, 8
Full-scale input range ± 10V or 0..10V at a gain of 1
Interrupt capability at end-of-conversion
Factory calibrated, calibration data in EEPROM
Prog. sequence timer from 100µs to 6.55s in steps of 100µs
-40 .. + 85 ° C operating temperature range
Integrity, Windows, Linux, QNX, and VxWorks drivers are available
5 years warranty
Order Information
32 port 16 bit ADC, insulated, gains 1, 2, 5, and 10, ±10V inputs, FP I/O
32 port 16 bit ADC, insulated, gains 1, 2, 5, and 8, ±10V inputs, FP I/O
32 port 16 bit ADC, insulated, gains 1, 2, 5, and 10, 0..10V inputs, FP I/O
32 port 16 bit ADC, insulated, gains 1, 2, 5, and 8, 0..10V inputs, FP I/O
32 port 16 bit ADC, insulated, gains 1, 2, 5, and 8, ±10V inputs, P14 I/O
32 port 16 bit ADC, insulated, gains 1, 2, 5, and 8, ±10V inputs, P14 I/O
32 port 16 bit ADC, insulated, gains 1, 2, 5, and 10, 0..10V inputs, P14 I/O
32 port 16 bit ADC, insulated, gains 1, 2, 5, and 8, 0..10V inputs, P14 I/O
1.8m cable with HD-50 connectors
50 pin terminal block with HD-50 connector
Connection kit 1.8m cable with HD-50 connectors and 50 pin terminal block with HD-50 connector
PIM module with 50 pin SCSI-2 type connector
Technical Documentation